Report: Derrick Rose 'not a part' of Bulls' pitch to Carmelo Anthony
Chicago point guard Derrick Rose reportedly only met Carmelo Anthony at the United Center coincidentally.
• 1 min read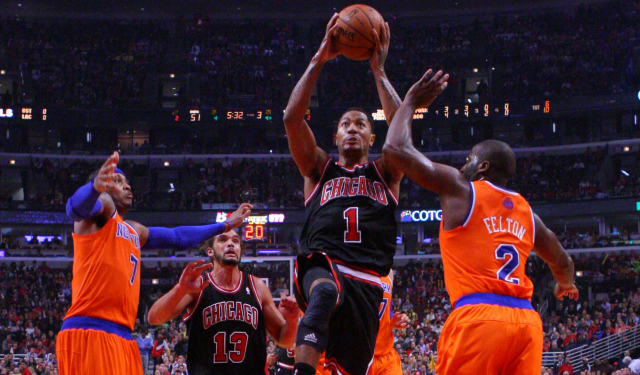 More Offseason Analysis: Coaching changes, news | Free Agency | Draft
Derrick Rose did not go out of his way to recruit Carmelo Anthony when the free agent forward visited the Chicago Bulls this week, according to ESPN's Chris Broussard.
It turns out that Derrick Rose was not a part of the Chicago Bulls' pitch to Carmelo Anthony after all.

Rose, Chicago's star point guard, happened to be in the middle of his daily workout routine when Bulls officials brought Anthony into the United Center on Tuesday afternoon, according to sources with knowledge of the situation.

Rose actually was surprised to see Anthony, one source said. He had no idea what time the Knicks' free agent would be visiting the Bulls.

Rose broke up his workout to approach Anthony and said a brief hello, but that was the extent of his participation in the Bulls' recruitment.
It was previously reported that Rose was part of the pitch, which was unexpected because the star point guard had previously said it wasn't his job to convince other players to come to Chicago. Really, though, this comes down to semantics. K.C. Johnson of the Chicago Tribune, who initially reported that Rose was involved, attempted to clarify the matter:
As previously reported, DRose had previously scheduled workout at UC, talked to Melo for 15-20 minutes in locker room, didnt attend dinner.

— K.C. Johnson (@KCJHoop) July 4, 2014
The @Chris_Broussard report DRose was shocked to see Melo speaks to disconnect somewhere. Bulls under impression Rose small part of pitch.

— K.C. Johnson (@KCJHoop) July 4, 2014
Does it really matter whether or not Rose had planned to talk to Anthony? The two of them talked, while Anthony was meeting with the Bulls about potentially joining the team. Presumably, this is what the organization wanted to happen, regardless of how long the conversation was and whether it was a coincidence or not.
Rose has historically taken an old-school stance on these matters, and there's nothing wrong with that. If Anthony does decide Chicago is the best place for him, Rose will surely say all the right things and be a great teammate. He just won't make a big show of it. The franchise clearly wants him, and how Rose approaches recruitment shouldn't be high on Anthony's list of factors when choosing where to sign.
Oklahoma City has reportedly offered the MVP a five-year extension worth over $200 million

The big man was a big part of the Warriors' championship run last season

The Cavs jokes were out in full force after Golden State reportedly agreed to sign Antonius...
New York seems to be at the top of Irving's list of preferred destinations

Is it just a normal workout, or is LeBron continuing his recruiting efforts?

Chris Bosh answered on the spot about the LeBron James and Kyrie Irving situation