Report: Doc Rivers to talk contract extension with Steve Ballmer
New Clippers owner Steve Ballmer will reportedly soon start negotiating a contract extension for president and head coach Doc Rivers.
• 1 min read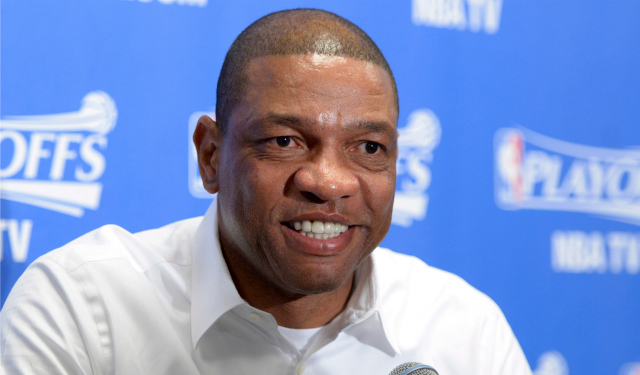 Offseason: Free Agency | Latest from Ken Berger | Rumors
The official sale of the Los Angeles Clippers means coach Doc Rivers will begin talking with new owner Steve Ballmer about a contract extension, according to Yahoo Sports' Adrian Wojnarowski.
Ballmer and Rivers had been eager to forge a long-term partnership, and a California court confirming the authority of Shelly Sterling to sell the franchise on behalf of the Sterling Family Trust has cleared the way to work toward a new deal.

Rivers, 52, the president of basketball operations and head coach, has two years left on his original three-year, $21 million contract. Rivers is already one of the highest-paid executives and coaches in professional sports, and his prominence and pay could grow with the promise of Ballmer's stewardship of the Clippers.
Rivers was the public face of the Clippers when the Donald Sterling scandal first surfaced during the playoffs, and while ownership was in limbo he wielded more power within the organization. He's been a stabilizing force for the franchise throughout the last few messy months. 
"This is an amazing new day in Clippers history," Rivers said in a statement about the sale. "I couldn't be more excited to work together with Steve as we continue to build a first-class, championship organization. I am already inspired by Steve's passion for the game, his love of competition and desire to win the right way and I know our players and fans are going to be inspired as well."
It doesn't seem totally necessary to extend Rivers' deal two years before it expires, but Ballmer might want to make a strong statement at the outset that he's committed to the proven coach. Even if he's not exactly proven as an executive yet.
A look at who came out ahead after Tuesday's megadeal swaps the point guards on the East's...

How the addition of IT changes the Cavs and where they go this summer depending on LeBron's...

Ainge said that he expects the start of Thomas' season to be delayed, but he'll be 'fine'...
The NBA MVP odds have shifted quite a bit following the blockbuster Kyrie Irving - Isaiah Thomas...

It's debatable whether Boston gets better right away with Irving, but the future is definitely...

Kyrie Irving was set to grace the cover of this year's video game in a Cavs jersey -- whoo...