Report: Doc Rivers would leave Clippers if Donald Sterling stays
Los Angeles Clippers' coach Doc Rivers would reportedly leave the team if Donald Sterling is allowed to remain the owner.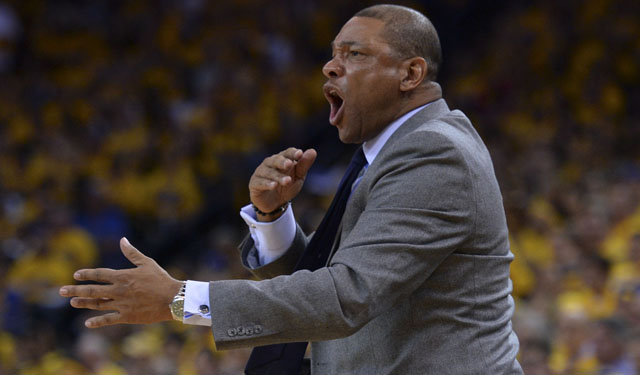 More postseason coverage: Playoff schedule, results | Latest news, notes
As we await the fallout of the allegations against and investigation into Los Angeles Clippers' owner Donald Sterling making racist remarks on a recorded conversation, we're starting to get reports about possible actions if Sterling is allowed to retain ownership of the team he purchased in 1981. If the league doesn't vote on stripping him of his ownership, vote him out of the league, and he's allowed to remain the owner of the franchise, we may see a mass exodus from within the organization.
According to Adrian Wojnarowski of Yahoo Sports, the prospect of Sterling remaining the owner of the team after Adam Silver and the owners decide his fate would reportedly mean Clippers' coach Doc Rivers would leave the team. And that could lead to more players trying to find their way out of his employment. 
Sterling's inclination will be to keep the team, keep the NBA mired in courts and the Clippers franchise will never survive it. Rivers will never return as president and coach under Sterling, sources told Yahoo Sports, and that'll start the beginning of a player mutiny that could result with several top Clippers also demanding out of the franchise.
While Rivers leaving wouldn't be complicated to accomplish -- coaches leave teams all the time and he'd have plenty of reason to go -- players finding their way out could prove to be a difficult thing for their agents to orchestrate. If it happened, it would certainly lead to the organization becoming as much of a joke on the court again as it would be with them off the court right now.
Rivers alone making that kind of decision would have huge internal and external implications as well. A prominent figure in the NBA leaving his job over racism from the owner (even if it isn't directed toward that figure) would exponentially further the Clippers' franchise being tainted. We'll know much more after Silver's press conference Tuesday at 2 p.m. ET. 
The former Clipper apparently had some tricks up his sleeve after a chippy game

The Rockets were apparently looking for Austin Rivers and Blake Griffin after a chippy gam...

If they don't meet in the Finals again, let's appreciate every one of the 27 matchups since...
D-Wade picked up the steal and got creative on the fast break as the Cavs headed into half...

Despite the embarrassing hiccup, the youngest Ball had himself a pretty great day on the c...

The players were both ejected in the closing seconds, then continued their discussion off the...