Report: Dolan could approve trade for Lowry if Knicks lose to Hawks
Knicks owner could change is mind about trade with Raymond Felton on the shelf, if the Knicks lose Saturday night. This logic is not exactly irrefutable.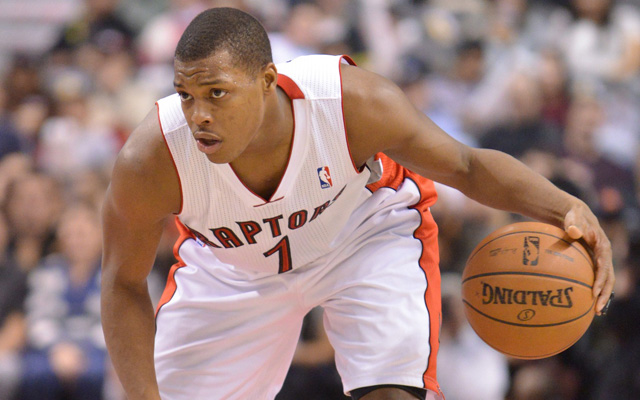 Making decisions off one game seems like a bad idea. Making decisions off one game when you're 6-16 seems like a terrible idea. Making decisions off one game when you're 6-16 and it involves mortaging your future (further) is a rotten, no good idea. And yet the Knicks appear to be headed towards just that. 
After James Dolan reportedly blocked the trade for Raptors point guard Kyle Lowry over myriad (and understandable) concerns, the New York Daily News reports that if the Knicks struggle Saturday night on a back to back vs. the Atlanta Hawks, the Knicks owner might relent and allow his front office to make the short-term move. 
The next 48 hours could determine whether James Dolan will trade a piece of the Knicks' future — in the form of either a young player or a first-round pick — to acquire Toronto Raptors point guard Kyle Lowry.

With starting point guard Raymond Felton expected to be sidelined two to three weeks with a strained hamstring, Dolan could be forced into reconsidering a deal for Lowry if the Knicks continue to struggle against the Hawks on Saturday.
via James Dolan, Knicks could be forced to make deal for Kyle Lowry - NY Daily News.
Couple of thoughts. 
1. Dolan's concern over media attention on the deal making him look bad is legit. The Knicks have been fleeced by Masai Ujiri in two separate deals, despite however many jumpers Andrea Bargnani is making. Even if it's just to save face, avoiding deals with Ujiri is in the Knicks' best interst. Personally, I'd block his number, that's how scared of him I'd be. 
2. Being mad about the leaks is a little ridiculous. The Knicks have always been a leaky ship, this is nothing new. The team's going to leak stuff, and if you want that to change, fix your organization, don't have it affect your trade plans. 
3. Avoiding giving up the 2018 first-round pick is a good goal to have. There's just no reason to further compromise your future just for a short-term fix. 
4. Lowry's contract being an expiring, helping to move more cap space for a second rebuild presumably behind Carmelo Anthony, should offset the loss of the pick a little. Not a lot. But a little. 
5. Raymond Felton's hamstring injury shouldn't really affect this. Lowry's an upgrade on Felton, healthy or not. You don't make a trade to survive two weeks of play without your point guard, especially when Pablo Prigioni, whose play I like less than most Knicks' fans, is at worst a wash as a replacement. 
But beyond all this... why would a loss to the Hawks, one of the few good East teams, on a back to back, change his mind? Why would this be what tilts the scales? Why alter your plans based on one game? Why not earlier? You're probably two week from Tyson Chandler returning. Why not wait? 
It's this kind of stuff that makes a good idea-- weighing adding a good player to the team in a trade for an asset that they're not necessarily needing due to their market size (even if that's shortsighted thinking at least it has some logic behind it) -- seem rash and like the Knicks are just doing things to do them. 
We'll see what happens Saturday night at the Garden. 
Markieff Morris was already in line to miss the start of camp due to a pending assault cas...

The 76ers should hopefully get a lot of play out of their young guys this season

Okafor's been on and off the trade block for over a year and doesn't seem to be in Philly's...
Fisher is the fourth NBA player to compete for the Mirror Ball trophy on the show

Barkley commends the NBA, sarcastically, for extending the season and reducing back-to-back...

Enes Kanter isn't seeing much comedy in the Kevin Durant social media situation