Report: Dolan, Melo influenced Kerr decision to turn down Knicks
Steve Kerr reportedly backed away from the Knicks job over concerns about Carmelo Anthony changing his game and James Dolan's influence.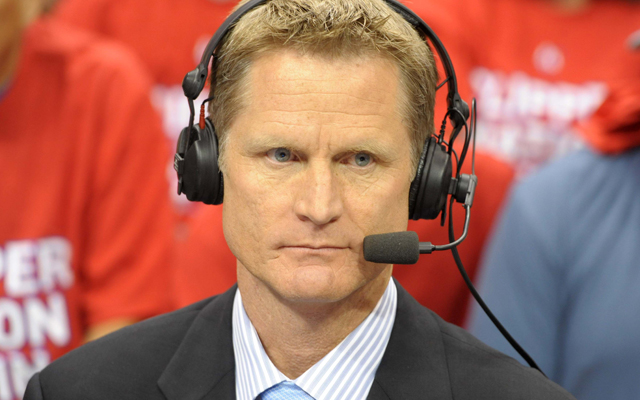 More Offseason Analysis: Coaching changes, news | Free Agency | Draft
What would make a man turn his back on his mentor? Steve Kerr obviously agonized over the decision to turn down Phil Jackson's offer to coach the Knicks when he took the Warriors' job Wednesday. He literally used the word "agonized" three times in interviews Wednesday night. So what made him turn down New York and the lure of working under the Zen Master to take over Golden State?
The New York Times reports there were several factors, including location and his relationships with the Warriors front office. But two of them were old familiar ones: Carmelo Anthony and James Dolan. 
Beyond proximity to his wife and home in San Diego, his mother in Los Angeles and his daughter, a college student at the University of California, Berkeley, the Warriors offered a playoff-ready roster with a younger and more attractive superstar in Stephen Curry than what the Knicks would present, assuming they can re-sign Carmelo Anthony.

In assessing the Knicks' situation, Kerr had told confidants that he believed Anthony could be a dynamic weapon in the triangle offense that Jackson is hoping to have his new coach install. But he was less sanguine about whether Anthony, who will turn 30 this month, would be eager to re-tailor the way he plays at this point in his career.

Kerr was wary of Anthony's willingness to deal with a learning curve, along with the prospect of a roster rebuild, or what he described to NBA.com as "a big undertaking" that would "take time."

Beyond Anthony, he worried about Dolan's patience, his willingness to allow Jackson the freedom to potentially let Anthony — Dolan's signature acquisition and the Knicks' only brand-name star — leave as a free agent this summer should they fail to agree on how much of a hometown discount, if any, Anthony should accept to give Jackson salary cap flexibility.

In doing his homework and speaking to many people about Dolan's methodology, Kerr became concerned about an inevitable clash between ownership and the fiercely independent and occasionally iconoclastic Jackson.
For Kerr, Knicks Job Had Its Pros (Jackson) and Cons (Dolan) - NYTimes.com.
That point about Anthony stands out here. Anthony is set to be a free agent with an opt-out this summer to join unrestricted free agency. Jackson is looking to install a coach to implement the Triangle, a free-moving, ball-motion-centric offense that nonetheless has catered to ball-dominant perimeter players in Michael Jordan and Kobe Bryant. But Anthony so bristled at coach Mike D'Antoni's ball movement approach that D'Antoni eventually resigned. 
It was ball movement vs. Melo, and Melo won. 
How will he react if the Knicks hire a coach who wants Anthony to find shots by passing? Anthony wants the ball at the extended elbow and the freedom to go to work. That's where he's comfortable and it's hard to blame him, considering his career success in scoring the ball. Anthony has the option of wanting to like everything about a situation because of his leverage. Meanwhile, Phil Jackson seems unconcerned with Anthony's input. If he wants to stay, great; otherwise, they're moving on. 
The Dolan issue is one that's going to be constantly discussed until the Knicks owner proves he can stay out of the way and let Jackson lead this team. Dolan has been known to demand radical changes and to stick to certain tenets most recently, like "whatever keeps Melo happy." That's not a great attitude for a coach to work under. In Golden State, he has an involved owner in Joe Lacob, but at least the organization looks at what's best for the team overall, whether you agree with their assertion that Mark Jackson wasn't best for the team at not. 
Until the Knicks get some distance from, you know, the 30 years of failure they've been under -- outside of the brief respite in the Pat Riley-Jeff Van Gundy era -- these ghosts are going to haunt their moves to rebuild the team. And Anthony stands at the crossroads of all those decisions going forward. 
Just not for Kerr.
The investigation detailed a hostile workplace environment

Cousins suffered a torn Achilles tendon on Jan. 26, and will miss the rest of the season

Ingram has become one of the team's go-to players with Lonzo Ball sidelined with an injury
Giannis skipped EuroBasket last summer, and has missed four games this season with knee so...

Some of the best and worst from the league as we head into the home stretch of the season

Cuban acknowledged that tanking is 'brutal' and that he will no longer do that after this...