Report: Donald Sterling tried to keep some power for Shelly Sterling
According to a report, Donald Sterling tried to convince Steve Ballmer to let Shelly Sterling keep a significant portion of the Los Angeles Clippers.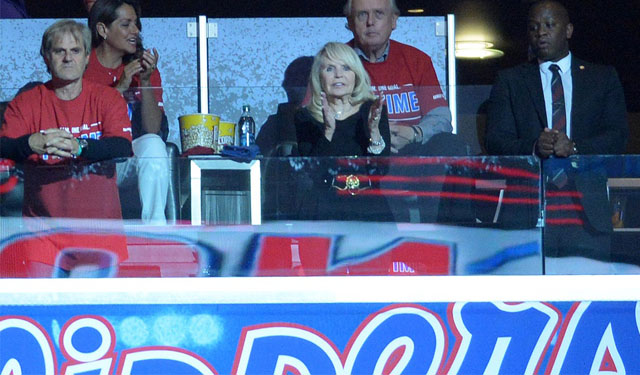 More Offseason Analysis: Coaching changes, news | Free Agency | Draft
The saga of the sale of the Los Angeles Clippers seems like it's almost over. With the latest decision in probate court ruling in favor of Shelly Sterling on all counts, it seems highly unlikely Donald Sterling will have many courses of action to block the $2.1 billion sale of the team to former Microsoft CEO Steve Ballmer. Donald Sterling will likely still try legal action against the NBA in order to block the sale, but the ruling is going to make it mostly a waste of time and money at best. Perhaps that's why Sterling tried another avenue in a meeting with Ballmer to keep his last name in possession of part of the franchise.
According to Ramona Shelburne of ESPN.com, the meeting between Sterling and Ballmer on July 20 included a proposal that would have kept a "significant portion of the team" in Shelly Sterling's possession. It was possibly a desperate attempt to keep some control for Sterling himself, even though it was against the guidelines set forth by Adam Silver and the NBA.
As the meeting unfolded, it emerged that Sterling liked Ballmer. He found him classy and sincere. Under different circumstances, Sterling might have been fine with selling his franchise to him, or at least doing some business.

But this had gone too far, gotten too personal and too ugly for there to be a harmonious resolution.

And harmonious resolutions aren't Sterling's thing. Why had Ballmer flown from Seattle? So that Sterling could make an offer they both knew Ballmer could never accept: letting Sterling's wife Shelly keep a significant portion of the team.
Silver and the NBA lawyers have been clear that the entire franchise must be sold to a new owner or ownership group and the Sterlings are not to be in possession of any portion of the team. It's safe to say that includes a "significant portion" for Shelly Sterling, even if she has been cooperating with the league and its guidelines. That won't stop Donald Sterling from trying to drag this out or keep his hands on the franchise in a situation in which he lacks any real control.
More lawsuits are likely to follow but it looks like Ballmer will soon be in control of the organization and the Sterlings will be a couple billion dollars richer. 
Not many games, but still plenty of action and intrigue Sunday in the Association

An old rivalry is reignited between LeBron James and the Cavaliers and John Wall and the W...

SportsLine's Mike McClure, a DFS pro with more than $1M in winnings, gives optimal lineup...
LeBron had 29 points, 11 rebounds, and 10 assists in the Cavs' 109-100 win over the Jazz

The montage showed Carmelo's best Knicks moments before playing the Thunder game

KCP can't leave California for 25 days due to the terms of his pleading guilty to a misdemeanor...