Report: Donnie Walsh to join Indiana Pacers front office
Donnie Walsh will reportedly join the Indiana Pacers front office.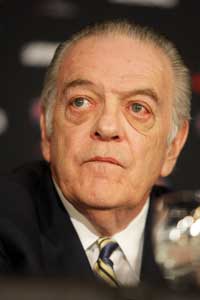 Donnie Walsh is reportedly headed back to Indiana.
(Getty Images)
The Indiana Pacers front office situation just drags on, and on, and on.
While it's still not crystal clear whether president Larry Bird will be in charge next year, and whether or not David Morway or Kevin Pritchard will assume the role of GM, former Pacers executive Donnie Walsh is reportedly back with the team. To make matters worse, it's not yet clear exactly what title Walsh will be holding. 
Regardless of the questions and the unfinished business, the New York Daily News reports that Walsh, who most recently worked for the New York Nicks, will be back with the team he served for over two decades.
Walsh, the long-time Indiana CEO before he came to New York to rebuild the Knicks, will be leading the Pacers in their efforts to land free agents starting when the period opens Sunday, league sources said Monday. The team's No. 1 priority is to re-sign point guard George Hill, a restricted free agent, and sources said Walsh will be spearheading the team's efforts to keep Hill.

Walsh's return to the team he led for 24 seasons will not necessarily mark the end of Larry Bird's tenure as team president. Bird said he wanted to return after the Pacers' season ended with a second-round loss to the Miami Heat. One indication that the NBA incon likely is staying is that Kevin Pritchard is expected to be promoted from director of player personnel to general manager. Formerly the GM in Portland, Pritchard was brought to the organization by Bird. GM David Morway has not been around the team in recent weeks and the team has not explained his absence.
It's always good to see a living legend back in the game, especially considering the Pacers have cap space and roster questions to sort out. The Knicks and Walsh reportedly went different directions after a disagreement over the trade that landed Carmelo Anthony in the Big Apple, so the current uncertainty in Indiana is nothing new.
However the Pacers resolve their front office organization, no one who remains standing will be complaining that a man of Walsh's experience and reputation is back in the fold.
Our advanced computer model simulated Saturday's Thunder-Cavs game 10,000 times

The Jazz are reportedly looking into trading Rodney Hood before the Feb. 8 NBA Trade Deadl...

The Cavaliers are ready to reset everything if they have to. Their interest in Lou Williams...
It sounds like the Cavaliers are going to be active before the NBA trade deadline on Feb....

We've got all the scores, highlights and news for Friday night

George Hill, who is unhappy in Sacramento, could be a solution to Cleveland's backcourt si...