Report: Dwight Howard decide free agency destination by July 10
Dwight Howard reportedly will decide where he's headed in free agency by July 10th when the NBA moratorium ends.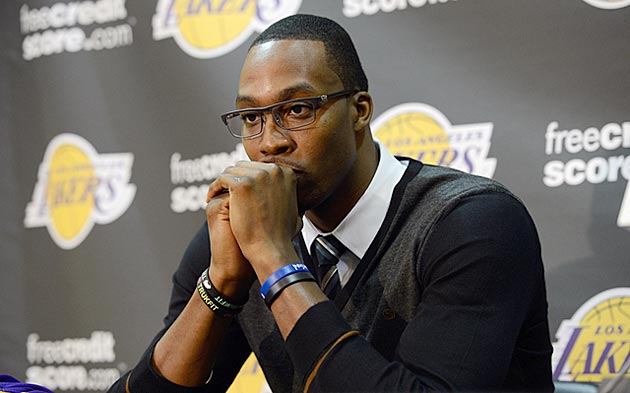 Cross your fingers, knock on wood, pray to whatever deities you think guide you, but we may have a shot at avoiding a prolonged Dwightmare Part II: Electric Dunce-A-Loo. ESPN Los Angeles reports that Dwight Howard expects to be ready to make a free agency decision on July 10th when the NBA's free agency moratorium ends. 
Howard plans to meet with Dallas, Houston and Atlanta before meeting with the Lakers once teams are allowed to contact free agents beginning July 1, a source said. It appears that the teams will visit Howard in Los Angeles.

A source close to the All-Star center told ESPNLosAngeles.com that Howard expects to be ready to choose his team as soon as the NBAs moratorium on new business is lifted on July 10.
via Los Angeles Lakers not likely to re-sign Dwight Howard, sources say - ESPN Los Angeles.
We can dream, right? 
There are a couple of notable things about this. First, it looks like the Lakers are going to get last crack at Howard, which is big, but not all that telling. LeBron James' last two meetings in 2010 were the Cleveland Cavaliers and the Chicago Bulls. Howard isn't James, but it is an example of how the home team having last shot isn't a big swing vote. 
The quality of the presentation will likely be the only important factor in Howard's decision. But vs. James in 2010 who focused on the basketball approach while the New York Knicks targeted a business focus on making James a billionaire, what is it Howard wants? 
And then there's the timing of the decision. He says he'll be ready by July 10th. But Howard says a lot of things, in person and through the media via the 100 leaks in his organization. Will he really provide a quick resolution to a saga that has dragged on now for two years? Don't count on it. If the presentations are competitive, expect Howard to take his time to decide while all the attention is on him. 
But at least according to one report, we may not be stuck with a month of Howard-related nonsense. Hope against hope, friends. 
The Suns firing Earl Watson three games into season is second-quickest firing in NBA histo...

Bledsoe tweeted, "I Dont wanna be here"

Giannis had his hand on McCollum's hip when he poked the ball away
Teodosic had to leave the Clippers' game Saturday night against the Suns

Irving said recently that he does not regret the profane outburst

Wade is having a rough start to his first season playing in Cleveland