Report: Dwight Howard still wants to be traded
Dwight Howard reportedly still wants a trade from Orlando.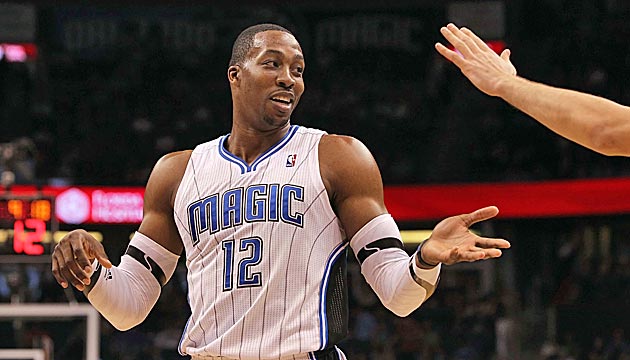 Even with Stan Van Gundy gone from Orlando, Dwight Howard doesn't want to stay. (US Presswire)
All this, and it's not enough. 
SheridanHoops.com reports that
Dwight Howard
still desires a trade from the Orlando
Magic
even after the Magic fired head coach Stan Van Gundy Monday and parted ways with GM Otis Smith Monday. 
On the day coach Stan Van Gandy and general manager Otis Smith lost their jobs with the Magic, a source who has spoken with Howard recently said the All-Star center desperately wants to be traded prior to the start of next season.

And although the Brooklyn Nets are still considered the frontrunner, "it is not going to be a one-horse race," the source said, listing the Mavericks, Knicks and — to a lesser degree — the Clippers and Lakers as among the destinations that would appeal to Howard.
via Dwight Howard wants to be traded by the Orlando Magic, who laid off coach Stan Van Gundy and GM Otis Smith on Monday..

Magic CEO Alex Martins made it clear during the press conference to discuss the release of Van Gundy and Smith that the decision centered around SVG's relationships with his players. While not specifically mentioning Howard, it was clear that though Howard had never told Martins, specifically that he waned Van Gundy fired, his "relationshp" as Martin put it, was under pressure.

So to review, the Magic have stacked their roster with subpar players who Howard preferred, fired their coach who hasn't had a season below .550 during his time with the Magic, and the GM that put together the roster that lead hem to the Finals, and Howard still wants out.

It's like the only people that don't see how this ends are ownership. 

The choices for Howard are still compelling. The Lakers, in particular, are in need of a savior and this could provide the goldena opportunity. If Howard can get past his feelings about Kobe Bryant and the pecing order, big things could happen. The Clippers stand as a long shot but playing with Chris Paul is always fun.

The Magic haven't solved any of their problems, they've simply found scapegoats while the ship kees going down. 

 
Oklahoma City has reportedly offered the MVP a five-year extension worth over $200 million

The big man was a big part of the Warriors' championship run last season

The Cavs jokes were out in full force after Golden State reportedly agreed to sign Antonius...
New York seems to be at the top of Irving's list of preferred destinations

Is it just a normal workout, or is LeBron continuing his recruiting efforts?

Chris Bosh answered on the spot about the LeBron James and Kyrie Irving situation