Report: Dwight Howard to sign for four years, $88 million with Rockets
Dwight Howard is set to sign a four-year, $88 million deal with the Rockets on July 10 after making his decision Friday.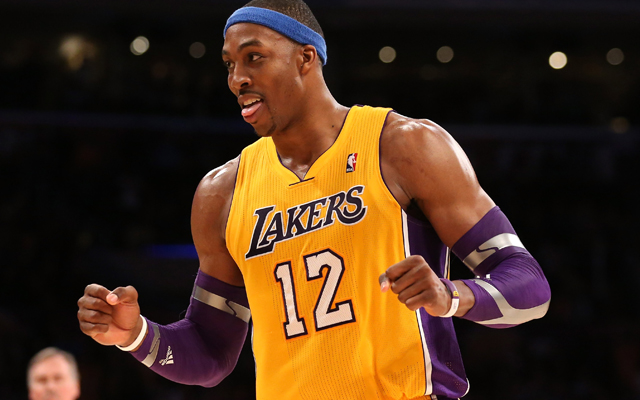 Howard chooses Rockets | Berger: Howard has to live with choice | Harper: Magic win Dwight trade | Moore: Winners and Losers from the Dwightmare | Howard changes avatar | Kobe unfollows Howard | Rockets jump in title odds | Moore: Lakers mortal | Moore: Morey's plan pays off
Yahoo Sports reports the terms of the Rockets' deal with Dwight Howard he's set to sign on Sunday, July 10. It's a lot of money. But there's bad news. For us. Not him. 
Dwight Howard's four-year, $88 million maximum contract agreement with the Houston Rockets will include an early termination option after the 2015-16 season and a 15 percent trade kicker, league sources told Yahoo! Sports.
via Dwight Howard can become free agent in 2016 - Yahoo! Sports.
That's right. In three years, Dwight Howard can become a free agent. We could do this whole thing again in four years. And then you realize that with the opt out, he could start threatening to leave Houston the year before. So really July 1, 2015 is when the nonsense could start. 
Howard will be 30 then, and you'd assume he wouldn't want to risk his standing, having a history including a major back injury. But this is Dwight. We can't be sure. 
$22 million is still enough that with Houston's state income tax situation he'll come close to recouping quite a bit of what he would have gotten with the Lakers, but not completely. The fact remains, Howard took less money to leave the Lakers, a move unheard of in the NBA. 
With 2K18 out everybody wants to know who has the 10 highest ratings in the game. Here's the...

Durant noted in an interview that all of the criticism in the immediate aftermath hit him...

Want the swagger of LaVar Ball? "NBA 2K18" lets you copy his absurd run from his WWE appea...
Durant apologized for a few tweets in which he criticized OKC and his former coach Billy D...

Lue does not expect the Cavs' big trade to affect the team's starting frontcourt ... at least...

Dwight Howard wants to be a farmer in his future and retire with his donkeys