Report: Dwight Howard to skip his annual basketball camp for kids in Orlando
Orlando Magic All-Star center Dwight Howard will skip his annual basketball camp for children.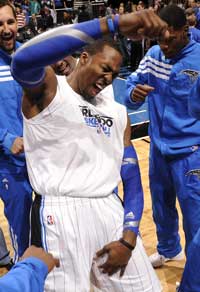 Dwight Howard plans to skip his annual basketball camp.
(Getty Images)
The nice children of Central Florida will simply have to learn how to hijack a franchise from someone else.
Orlando Magic All-Star center Dwight Howard has decided to skip out on the "Dwight Howard Basketball ProCamp" set for Aug. 13 and 14, according to the Orlando Sentinel.
An official for ProCamps, which runs the event, said families who paid the camp's $199 registration fee were sent e-mail messages Monday to inform them Howard will remain in southern California in order to continue rehabilitating his back.

Meanwhile, the disgruntled All-Star recently has attended at least two Los Angeles Dodgers games and a portion of the adidas Nations basketball tournament in southern California.
Who could have possibly guessed that the flakiest big-name in basketball would fail to fulfill his youth basketball camp commitment in a city that he's spent months -- if not years now -- torturing with his indecision and moodiness?
According to the camp's website, the campers were set to receive a t-shirt, an autographed photo and "expert instruction," plus "daily talks" from Howard "highlighting the finer points of the game of basketball and beyond."
The Sentinel reports that the camp had already been re-scheduled once and that the Magic's 2012 first-round pick Andrew Nicholson will fill in for Howard. Refunds are reportedly available for those who wanted to see the consensus best center in basketball and not a 2-star high school recruit from Canada who spent the last four seasons at St. Bonaventure. 
Howard, of course, has been hiding out in Los Angeles after undergoing season-ending back surgery that forced him to miss the 2012 playoffs. During his lengthy stay in California, the Magic have fired former coach Stan Van Gundy, parted ways with former GM Otis Smith, hired new GM Rob Hennigan and brought aboard new coach Jacque Vaughn. All those changes haven't moved Howard, though, who continues to demand a trade from the Magic despite all the collective bargaining agreement complications and a very short list of teams with which he actually approves of landing.
It's been an ugly, protracted divorce between player and team. And you know what they say: the kids, not the adults, always get the worst of any divorce.
Is this rock bottom for the Cavaliers because it sure feels like it is

Wade, as he's done so many times in his career, threw it up to LeBron for the thunderous f...

The Warriors coach added there should be no shame in being picked last since everyone's an...
We've got all the scores, highlights and news from all of Saturday's games

The two teams have reportedly not had any substantial discussions to this point

Oladipo may be getting most of the shine, but this second-year big man has been phenomenal...