Report: Dwyane Wade's new deal with the Heat has no-trade clause
Dwyane Wade re-signed with the Miami Heat on a two-year deal, and has a no-trade clause included in it.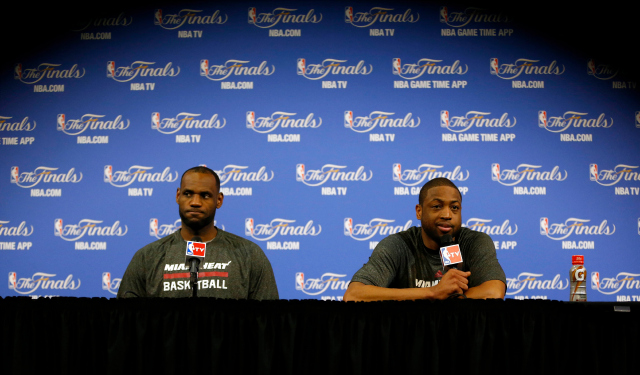 More Offseason Analysis: Coaching changes, news | Free Agency | Draft
The Miami Heat and Dwyane Wade are committed to each other. Wade has been there since Day 1 after being selected with the fifth pick by the Heat in 2003, has won three championships with them, and has twice re-signed with the franchise when he's been a free agent. It's likely he'll be a Heat player for life and probably end up in a similar position that Alonzo Mourning is in with the organization when his playing career is over. He's certainly not going anywhere in the next two years unless he wants to go.
Marc Stein of ESPN.com tells us Wade's two-year deal for $34 million includes a no-trade clause in it. He's the sixth player in the NBA to have a no-trade clause, joining Kobe Bryant, Tim Duncan, Dirk Nowitzki, Kevin Garnett, and the recently added Carmelo Anthony. 
Make it six. ESPN sources say Dwyane Wade has also secured a no-trade clause in his new deal with Miami

— Marc Stein (@ESPNSteinLine) July 16, 2014
A no-trade clause isn't something that just anybody can get in their contract through negotiations. You have to fit a certain criteria other than just whether or not you want control over that aspect of your deal. You have to be in the NBA for at least eight years and have played for the team you're signing the contract with for at least four seasons. If you've played part of a season with the team (like Carmelo Anthony who has played 3.5 seasons), they round up your tenure. You also have to be a free agent when you sign the deal. You can't include no-trade clauses in extensions, unless you've previously had one in your contract.
Kris Dunn somehow took a chunk of the Bulls court out with his teeth, but didn't lose any in...

The fallout from the Rockets-Clippers tussle continues; no Clippers were disciplined

DH12 is picked for free throws after a teammate gets ejected. He makes both, and lets Scott...
Bell was injured defending a Robin Lopez dunk and had to be taken off the floor in a wheel...

Trevor Ariza and Gerald Green are reportedly both suspended two games

We've got all the scores, highlights and news from Wednesday night