Report: Earl Clark, Cavaliers share 'mutual interest'
Lakers free-agent forward Earl Clark is set to meet for a second time with Cavs as the two sides show a "mutual interest."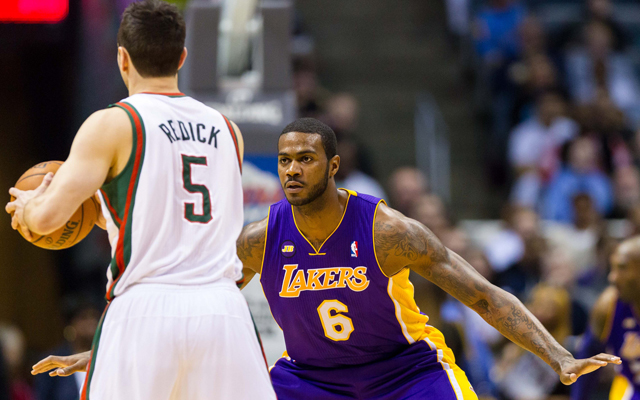 Typically speaking, Lakers role-player free agents wind up getting crazy deals. Jordan Farmar, Trevor Ariza -- there's a proud history of players who had success on the most prolific NBA team getting big deals. Headed into this free agency, the biggest player set to fill that role was Earl Clark, and it appears he does have at least one very serious suitor. From the Sporting News: 
Free-agent forward Earl Clark met with the Cavaliers in Cleveland on Tuesday, and though no contract offers were made, the two sides are expected to meet again Wednesday, a source told Sporting News. The source labeled the interest between Clark and the Cavaliers "very mutual."
via Source: Earl Clark, Cavaliers interest very mutual; sides meet in Cleveland -- NBA -- Sporting News.
The Cavaliers are stocking up on wings, after drafting Sergey Karasev and combo-forward Anthony Bennett (who, like Clark, is kind of a 3/4 hybrid, though Bennett definitively cannot guard 3's). They clearly want an upgrade over Alonzo Gee. Clark can also work to defend stretch fours and a little bit of work on traditional power forwards. 
This isn't a bad fit. 
The question will be what kind of deal he'll get. Clark had a good season overall, but his limitations were very obvious whenever the Lakers came to depend on him. He can make the Cavs better, and it really just comes down to where they want to put him. 
Irving has requested a trade away from the Cavaliers

The Lakers made a strong push for Rose, but he would have been a backup in Los Angeles

The small forward spent last season with the Sacramento Kings
Knight still has three years left on his five-year, $70 million contract

The Golden State forward is accused of assault, battery and making misleading statements

The Nets get their shooter a year later, and the Blazers reportedly will waive Nicholson