Report: Ex-Microsoft CEO Ballmer puts in $1.8 billion bid on Clippers
Member of group looking to move team to Seattle puts massive bid on LA team in the face of Sterlings' desperate search to find buyer.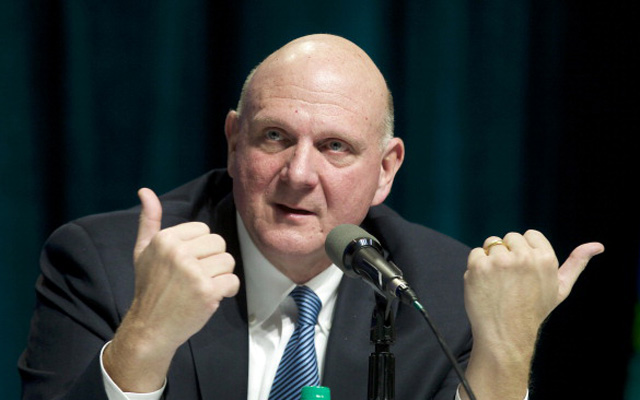 More: Sterling banned for life | Latest updates | NBA news
Forbes reports that former Microsoft CEO Steve Ballmer, who was once part of an unsuccessful bid to acquire the Sacramento Kings and move them to Seattle, has put in a $1.8 billion bid for the Los Angeles Clippers. Reports indicated that Shelly Sterling, who may, or may not have been authoized to sell the team depending on who you talk to, put a 5 p.m. Wednesday deadline on bids to be entered. 
Former Microsoft CEO Steve Ballmer has offered $1.8 billion for the Los Angeles Clippers, according to a person familiar with Ballmer's interest in the NBA team. Ballmer, who retired as Microsoft's CEO four months ago has a net worth of $20 billion. Another source, with intimate knowledge of the bids that Rochelle Sterling has thus far received for the basketball team, said offers have come in between $1 billion and $2 billion and that the Ballmer package is strong.

It is still early in the bidding process for the Clippers and it is quite possible that the price could go higher, especially if interested parties join forces to buy the team. Still, I must tip my hat to Bill Simmons, who predicted at the end of April that the basketball team would fetch $1.75 billion. Donald Sterling bought the Clippers in June, 1981 for $12.5 million. NBA owners are voting June 3 to force he and his wife Rochelle to sell the team due to racist comments made by him in private that were taped and subsequently made public.
via Steve Ballmer Said To Offer $1.8 Billion For Los Angeles Clippers.
The next question if Ballmer wins is what he intends to do with it. The ideaof moving it to Seattle seems preposterous to me. For starters, the $1.8 billion evaluation isn't based on the team's illustrious championship history and strong independent brand; the Clippers have been a joke until Blake Griffin was drafted outside of a few years (shout out, Elton Brand- Sam Cassell Clippers). It's the market. An NBA team in Los Angeles. Moving it from LA to Seattle would be like moving a team from Seattle to Oklahoma City. 
Wait. 
But the NBA would also likely block that. As much as they'd love their share of the $1.8 billion lining their pockets and pushing up the valuations on their teams, moving a team out of LA is not good for business, and would lower the valuation immediately, which again, bad for business. 
So has Ballmer abandoned his plans to help Chris Hansen move a team to Seattle? SonicsRising has more on the complicated situation therein. What is clear is that if the Sterlings are allowed to cash in on this forced sale, they're going to walk away over $1.5 billion richer. 
Pachulia fell onto Westbrook after they both got tangled up with Nick Young

Butler suffered the injury on Friday night against the Rockets

The extent of Butler's meniscal injury isn't yet known, but there's reason for Wolves fans...
No timetable was provided for Butler's recovery

We've got all the scores, top plays and news from Saturday's NBA games

Galin Dragiev is on a 31-18 NBA run and just locked in a play for Thunder vs. Warriors on...