Report: Favors, Jazz agree to four-year, $49 million extension
Utah Jazz big man Derrick Favors has reportedly agreed to a four-year, $49 million contract extension that could move over $50 million with incentives.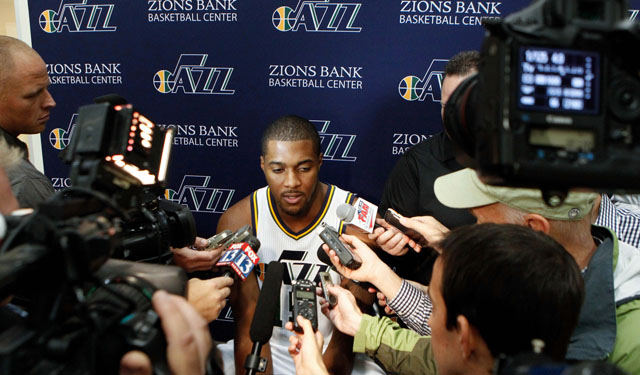 When the Utah Jazz started moving toward a future without Deron Williams, the major part of the trade package they received for their All-Star point guard was promising big man Derrick Favors. Favors was a rookie at the time and had completed just 56 games after starring at Georgia Tech. The No. 3 pick in the 2010 NBA Draft was going to be part of a rebuilding/retooling effort of the Jazz once Paul Millsap and Al Jefferson moved on.
The Jazz are apparently happy to continue to commit a part of their future to Favors. Adrian Wojanrowski of Yahoo Sports is reporting that the Jazz and Favors have agreed to a contract extension for four years and $49 million that will keep him in Utah through the 2017-18 season. Wojnarowski is also reporting that there are bonus incenctives that could push the deal over $50 million.
Derrick Favors has reached agreement on a four-year, $49 million-plus contract extension with the Utah Jazz, league sources told Yahoo Sports.

The deal includes bonus incentives that could push the package well over $50 million, sources said.

Favors, 22, is a centerpiece of the Jazz's future and will take over a starting frontcourt position because of the off-season departures of Al Jefferson and Paul Millsap. A contract will be signed in the near future, sources tell Yahoo.
Favors had the best year of his career in the 2012-13 season when he averaged 9.4 points and 7.1 rebounds in 23.2 minutes. He was the best defensive big man for the Jazz and often found time next to either Jefferson or Millsap to give them support inside. When Jefferson signed with the Charlotte Bobcats this summer and Millsap left for the Atlanta Hawks, Favors and fellow big man Enes Kanter took the reins of the future of the Jazz interior.
There are now five members of the 2010 NBA Draft that have signed extensions before the October 31 deadline. Larry Sanders, John Wall, Paul George, and DeMarcus Cousins have all signed extensions with their respective teams. Any player from the 2010 first round rookie class that does not sign an extension with their team before the October 31 deadline will play out their fourth season in the league before likely becoming a restricted free agent in the summer of 2014.
The Blazers guard was a guest on the Sirius XM radio show 'Sway in the Morning'

L.A. reached a three-year jersey ad patch deal with Wish, a San Francisco-based e-commerce...

John Paxson doesn't intend to buy Wade out without some sort of compromise from the 3-time...
Lonzo's signature shoes have a sleek, all-black design and will be available in November

Durant recently apologized for tweets criticizing the Thunder and Billy Donovan

Jackson says he has 'no respect' for Durant after KD created fake Twitter pages