Report: Fisher expected to reach deal to become Knicks coach
Former Laker and current Thunder guard expected to reach deal with former coach in New York to take the reins.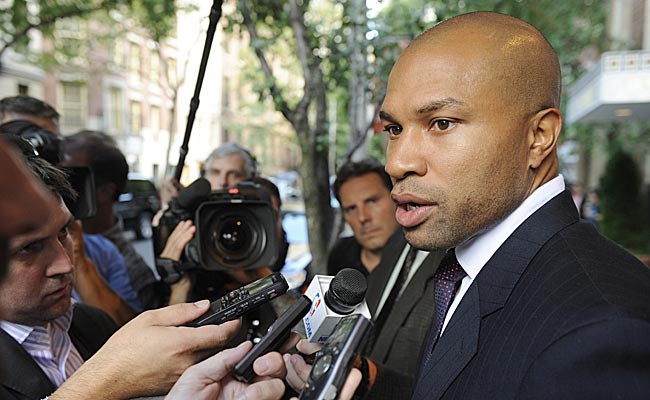 More Offseason Analysis: Coaching changes, news | Free Agency | Draft
ESPN reports that the New York Knicks are "widely expected" to reach a deal with Thunder guard Derek Fisher to become their next coach this week. 
The New York Knicks' pursuit of Derek Fisher to be their new coach will ramp up this week and is widely expected to result in the hiring of the 17-year veteran guard, according to NBA coaching sources.

Sources told ESPN.com that new Knicks president Phil Jackson has been fully focused on Fisher since Steve Kerr unexpectedly decided to take the Golden State Warriors' job, when Jackson and essentially the whole league believed Kerr was bound for New York.

One source close to the talks said Monday that "things could take shape quickly in the early part of the week."
via New York Knicks to ramp up pursuit of Derek Fisher - ESPN New York.
Fisher has been the hot name on Jackson's list since Steve Kerr turned the job down to take the Warriors' position. Fisher played under Jackson for over 10 seasons in Los Angeles, and can install the triangle offense that Jackson has made his hallmark after adopting it from Tex Winter. 
The question is whether this time the Knicks have actually landed their guy after Kerr, who also played under Jackson, turned him down to head west, and whether Fisher is really ready to retire from playing. 
The Thunder, particularly Kevin Durant, have been very vocal about trying to get Fisher to return for one more season. Jackson was recently fined for his comments on the situation for tampering, since Fisher is still under contract with the Thunder. If a deal were to be struck this week, it's hard to understand how that also would not be tampering, since Fisher hasn't officially retired yet, but at this point, Phil Jackson appears to not care much about any such appearances. 
Thomas took to Twitter to let the Celtics know he doesn't want to ruin Pierce's night

The Hall of Famer's jersey was retired by the Celtics in 1982

It's rare to see a legit punch in an NBA fight, but this was definitely one of them
We've got all the scores, highlights and news from an NBA Tuesday

The former Slam Dunk Contest champion will take his talents to Tri-State

Do NBA players have look-a-likes from famous paintings? We found out on the new Arts & Culture...