Report: Frank Vogel to return as Pacers coach
Indiana won't fire the coach that made two consecutive Eastern Conference Finals. Bold move, that.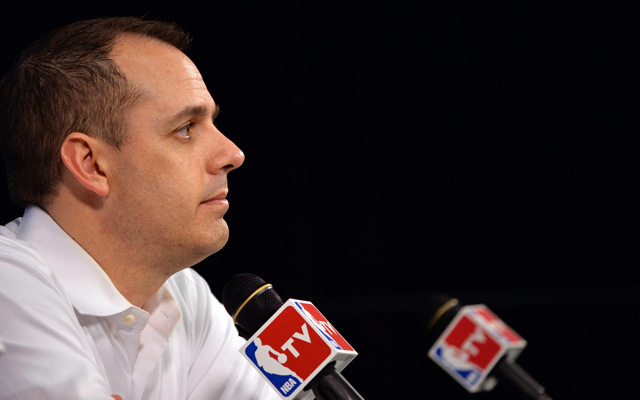 Yahoo Sports reports that the Indiana Pacers will retain coach Frank Vogel following the Pacers' disappointing six-game loss to the Miami Heat. 
After consecutive losses in the Eastern Conference finals, Frank Vogel will return to coach the Indiana Pacers next season, league sources told Yahoo Sports.

Indiana management has never considered replacing him, sources told Yahoo Sports.

Vogel's job status had become fodder for debate because of an unsteady late-season slide that extended into the playoffs, but Pacers president Larry Bird and general manager Kevin Pritchard have remained strong believers in him, sources said.

Most of the stories surrounding Vogel's possible removal as coach, league sources told Yahoo Sports, had been coming from unemployed coaches trying to angle themselves into contention to replace him.
via Sources: Frank Vogel to return as Pacers coach - Yahoo Sports.
It's the right decision. Vogel turned a team of raw and young players into a legitimate contender with a strong identity. As disappointing as the final four months of the Pacers' season was, the team itself has done well under Vogel, and you have to think past this team and these circumstances. Vogel has developed players, preached discipline, grown a culture, managed egos, and won a ton of games. 
Firing someone after consecutive trips to the Eastern Conference Finals because they couldn't get past the Miami Heat is kind of crazy. 
Mark Jackson was rumored to be in line for the job if the Pacers had fired Vogel, according to a report. 
The Pacers will move forward with Vogel, and stability combined with overall success is always a good combination. 
Trevor Ariza and Gerald Green are reportedly both suspended two games

We've got all the scores, highlights and news from the night's games

Jonah Keri talks with NFL and NBA broadcaster Ian Eagle
SportsLine simulated Wednesday's Nuggets-Clippers game 10,000 times

Galin Dragiev has his finger on the pulse of the Lakers and just locked in a play for Wedn...

No more McNuggets allowed in the Barnes household