Report: Golden State Warriors to announce plans to move to San Francisco from Oakland
The Golden State Warriors will reportedly announce plans to move from Oakland to San Francisco.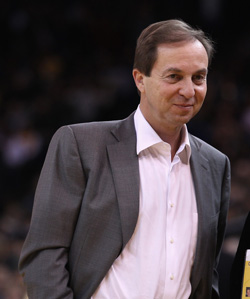 Warriors owner Joe Lacob plans to have his team on the move.
(Getty Images)
The Golden State Warriors could be headed back across the San Francisco Bay in five years.
The San Jose Mercury News reported
on Sunday that the Warriors could relocate from Oracle Arena in Oakland to a new stadium in San Francisco by 2017.
Sources: Warriors have finalized plans to move to San Francisco. Announcement could come as early as Tuesday. Pier 30/32 arena with private money. New arena would be state-of-the-art multi-use (basketball, concerts) facility, making the most of Bay-front location.

Move is planned for 2017, presuming no red-tape and funding problems. Access remains a major concern. Only 1000 parking places in plan.
Joe Lacob and Peter Guber purchased the Warriors in 2010 from former owner Chris Cohan. Their plan has been to move the Warriors across the bay to San Francisco for some time.
"The potential for building an arena near AT&T Park is very exciting," Lacob
told the San Francisco Chronicle in December 2011
. "The Giants have done some remarkable things over there. It's a great ballpark that revitalized an entire part of the city."
Pier 30 and 32 are just north of AT&T Park.
The Warriors have bounced around since relocating from Philadelphia to California in 1962. They have played home games in Oakland, San Francisco, San Diego, San Jose and Daly City over the past five decades.
The franchise changed its name from the "San Francisco Warriors" to the "Golden State Warriors" in 1971 to coincide with a move to Oakland.
Durant couldn't quite get the shot off in time, and the Rockets prevailed

Draymond Green walked off the floor limping and rubbing his knee in the third quarter

Golden State raised its second banner in three years. Now they start their run for another
Hayward's injury left the Celtics shocked for a moment.

The 11-carat rings hold more diamonds than any other ring awarded in any other major sport...

The Cavs were supposed to honor their ex-star but ended up not showing the tribute video