Report: Greg Monroe would be fine with signing qualifying offer
Pistons restricted free agent Greg Monroe is reportedly using the only leverage he has.
• 1 min read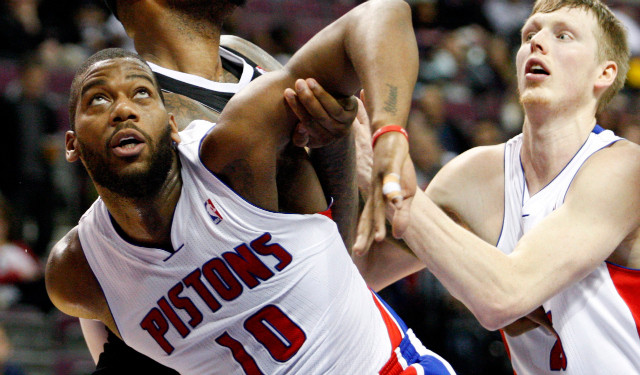 Offseason: Free Agency | Latest from Ken Berger | Rumors
Detroit Pistons restricted free agent Greg Monroe has been in limbo for a while. It's a bit complicated. Monroe recently refuted a report that the Pistons had offered him a five-year, $60 million deal and, whatever they have offered him, he clearly does not think it's enough to commit to the organization long-term. If it comes down to it, he'll just sign a one-year qualifying offer, according to The Detroit News' Vincent Goodwill:
While the Pistons big man has not pursued an offer sheet from another team, he has pursued sign-and-trade possibilities, and Monroe is "definitely" willing to take the one-year qualifying offer worth $5.3 million from Detroit in order to ensure his unrestricted free agency next summer, a source familiar with Monroe's thinking told The Detroit News.

…

Monroe reportedly doesn't have anything against the Pistons or new coach/president Stan Van Gundy. In fact, the source said, Monroe "likes Van Gundy and likes what he says," but added that Monroe "needs proof (of Van Gundy's vision)."
This is the only thing Monroe can do to put any sort of pressure on Detroit, so it's not surprising to see this report come out with the two sides at a standstill. It's not the first time this has been reported, either. From Grantland's Zach Lowe at the beginning of free agency:
Multiple sources say Monroe's camp has made it known Monroe will sign the one-year qualifying offer if [Josh] Smith remains on the roster. Monroe's camp denies that, and that kind of empty threat is not atypical from top restricted free agents. It's really their only form of leverage.
You very rarely see a player of Monroe's caliber accept a qualifying offer at this stage of his career. It'd mean playing for way below market value, and assuming the risk that comes along with the lack of a long-term deal. If he gets hurt next season or struggles in Van Gundy's system, it'd be on him. I'm not saying there's no way it happens, just that this is far from the ideal scenario.
There's no shortage of moments to choose from

The Trail Blazers almost traded for Charles Barkley, but when they didn't, it put them in debt...

The self-proclaimed ASG snub Williams may be bitter about Butler requesting to sit out Sun...
The commish said they were overly conservative with the decision this year, but that should...

A dive into the NBA history books for every result from every NBA All-Star Game

James set the tone during practice that this year's All-Star Game was going to be differen...