Report: Greg Oden to decide among six teams by next week
Free agent center Greg Oden is still working toward a comeback in the NBA and will reportedly decide next week between six interested teams.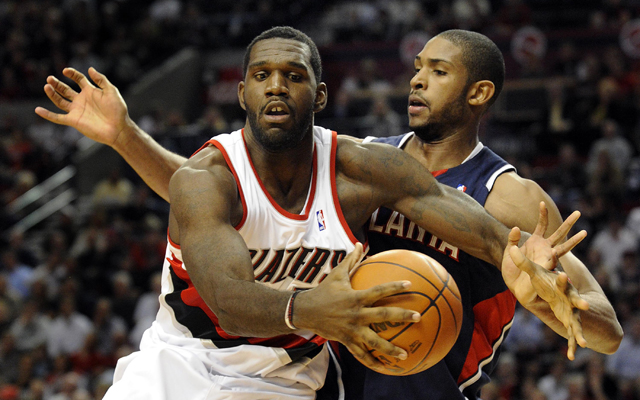 The tease that has been Greg Oden over the past six years may once again be in the NBA as a paid player. After several devastating injuries, numerous surgeries, and dozens of rumors about the possibility of Greg Oden returning to an NBA court, the center who hasn't played a game since December 5, 2009 is mulling over a return and might finally make a decision on the matter. 
Marc J. Spears of Yahoo Sports is reporting that Oden is going to make a decision next week. He has six potential suitors, according to Spears, and will make a decision between the Sacramento Kings, Miami Heat, Atlanta Hawks, New Orleans Pelicans, San Antonio Spurs, and Dallas Mavericks. 
Free agent center Greg Oden to make decision next week picking from Sacramento, Miami, ATL, NO, San Antonio & Dallas, source told Y! Sports.

— Marc J. Spears (@SpearsNBAYahoo) July 23, 2013
Yesterday, we told you about Oden hosting three different teams as he was nearing a decision and now that decision will reportedly come next week. For Oden, we may finally get closure on his career in some way, whether he isn't able to do much more than what Brandon Roy did for the Minnesota Timberwolves in the 2012-13 season or whether he is able to become a productive, contributing member of a basketball team.
It doesn't make sense to go over what he could be or what he has done in the past because we have absolutely no clue how he might actually be on the court, if he actually makes it back to the court and is able to stay there on a semi-regular basis. Instead, examining what the team situations might be if he joins them could be a better exercise regarding a potential Oden comeback.
Let's take a look at the situations of each of the six teams and what it could mean to Oden if he chooses them.
Sacramento Kings
The Kings already have DeMarcus Cousins, Jason Thompson, and Chuck Hayes as a pretty solid three-man rotation inside. They can also throw Luc Richard Mbah a Moute at the 4 if they need to, so there shouldn't be too much pressure for Greg Oden to come in right away and be anything. If Oden were to somehow miraculously return to some kind of form that allows him to play basketball for more than 20 minutes per game, the Kings could begin thinking about either moving Cousins to the 4 and pairing them together. Sacramento has their room exception available.
Miami Heat
The Heat have already proven they don't need a full-time center in the middle to be able to win titles. They've gotten by over the last two years with a combination of Chris Bosh and Joel Anthony and then Chris Bosh and Chris Andersen. Adding Oden to the mix would mean he could be brought along slowly and would never be rushed into playing because they know anything from him would be a luxury. But if Oden is looking for a little more financial security than the veteran's minimum, the Heat can't really provide that unless they're willing to go with the taxpayer mid-level exception. 
Atlanta Hawks
The Hawks already have three really versatile options inside with Al Horford, Paul Millsap, and Elton Brand, so bringing in Oden would mean they could still play any of their big men at the 4 and not worry about being too clunky on the interior if Oden can indeed play. The Hawks aren't terribly deep past that point with Mike Scott as the fourth big man right now, which means they might be relying on Oden to play sooner rather than later. They can use their room exception on Oden if needed.
New Orleans Pelicans
The Pelicans no longer have a productive big center in the middle after having to jettison Robin Lopez to the Portland Trail Blazers in order to bring in Tyreke Evans. If you believe Anthony Davis can be a full-time center in this league, then they're set at the position right now. If not, then they have Greg Stiemsma, Jason Smith, and Jeff Withey (unsigned) to throw into the middle with Ryan Anderson playing the stretch-4 to spread the floor. Oden could provide them with some much-needed size. They also have the room exception to use.
San Antonio Spurs
This could probably end up being the best choice for him for a number of reasons. The Spurs are very into managing minutes, managing the bodies of their players, and looking at the best way to prepare them for the rigors of the regular season and playoffs without giving into the pressure of making guys play games. They have enough big man depth with Tim Duncan, Tiago Splitter, Matt Bonner, Boris Diaw, and Jeff Pendergraph to not really need Greg Oden any time soon. This would give him plenty of time to find his own pace to getting back into the game while under the tutelage of arguably the best-run organization in the NBA. The Spurs have less than $1 million left on their mid-level exception so it would probably have to be a veteran's minimum contract.
Dallas Mavericks
The Mavericks also have enough big man depth at the moment to avoid needing Oden to come in right away and contribute. Dirk Nowitzki, Samuel Dalembert, and Brandan Wright are enough depth, especially when you factor in Shawn Marion's ability to play the 4. The Mavericks are a first class organization in need of some type of homerun in free agency that isn't passed off as getting Monta Ellis to sign with them. Perhaps getting Oden and bringing his career back to life could be that homerun. They have their room exception available. 
Players such as Metta World Peace, Baron Davis and Nate Robinson have signed on

The guard is doing everything he can to make a name for himself (and making Cavs fans sweat...

Bryant is getting recognition for his off-the-court exploits in retirement
Our advanced computer model simulated Tuesday's Spurs vs. Cavs game 10,000 times

Larry Hartstein has a knack for picking Celtics' games and just locked in a play for Tuesday...

Leonard, who has played just nine games this season, has once again been shut down by the...