Report: Grizzlies and Raptors talking swap involving Tayshaun Prince
Memphis could give up the No.22 pick to get rid of Tayshaun Prince's expiring contract.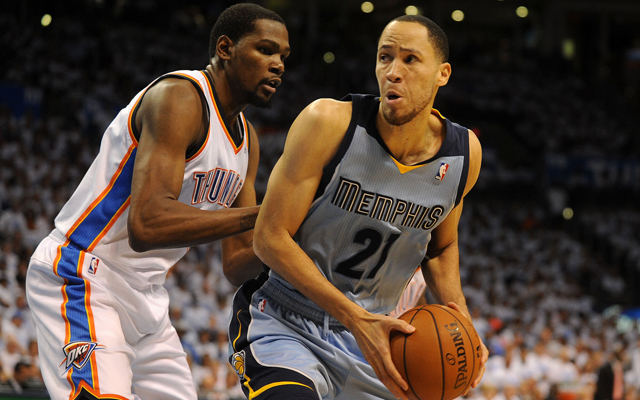 More draft: Mock drafts | Draft order | Prospect rankings
ESPN reports that the Grizzlies and Raptors are discussing a deal to send the No. 59 pick and John Salmons from Toronto to Memphis for Tayshaun Prince and the No. 22 pick.
Potential swap would send John Salmons and No. 59 to Memphis for Tayshaun Prince and No. 22 and put Raptors in range to pick Tyler Ennis

— Marc Stein (@ESPNSteinLine) June 26, 2014
The salaries are the key component here. Both Salmons and Prince are expiring. Here's a look at the situations if the deal comes through.
Raptors: Gain $7 million in expiring contract for Prince and the No. 22, sending out $7 million in salary for Salmons. Their cap number rises to $52 million, leaving them eleven million in cap room. Provided they keep the pick, their cap hold then rises a little more than another million to $53 million for the 22nd pick.
Grizzlies: Gain $7 in salary for Salmons, sending out $7.7 million for Prince and another $1 million for the 22nd pick. The key here is that according to ShamSports, Salmons is only guaranteed for $1 million next season if waived before June 30th. That would clear the $7 million, dropping their cap hold, even if Zach Randolph opts in, to $62.2 million, under the salary cap. That would put them within striking range of making a substantive upgrade with another few moves. Meanwhile, if Randolph were to opt out, which he's willing to do if the move is profitable long-term for him, and the Grizzlies were to waive Salmons, they're looking at close to $18 million in room to re-sign Randolph and find upgrades for shooters or other depth. 
Of course, the price of that is that No. 22 pick which is stocked with wings that could help Memphis fairly quickly. That's likely the debate surrounding the deal at this point. Memphis has to balance both sides.
Meanwhile, the Raptors could land Tyler Ennis and Clint Capela, giving them a versatile, fun, young core to build around. They look more and more like they're positioning themselves for a rebuild next season instead of trying to re-sign Kyle Lowry and Greivis Vasquez. 
The deal is one of several that Toronto is considering, but if it happens, there are direct impacts on both teams. 
We've got all the scores, highlights and news from all of Sunday's games

The Rockets beat the Warriors 116-108 on Saturday night

The Cavaliers gave up 148 points in their loss Saturday afternoon to the Thunder
Blatt made the comment before coaching in the All-Star Game in Turkey

Is this rock bottom for the Cavaliers because it sure feels like it is

Wade, as he's done so many times in his career, threw it up to LeBron for the thunderous f...