Report: Grizzlies, Thunder, Nuggets, Cavs driving up price for Mike Miller
Mike Miller is an increasingly popular man on the free agent market.
• 1 min read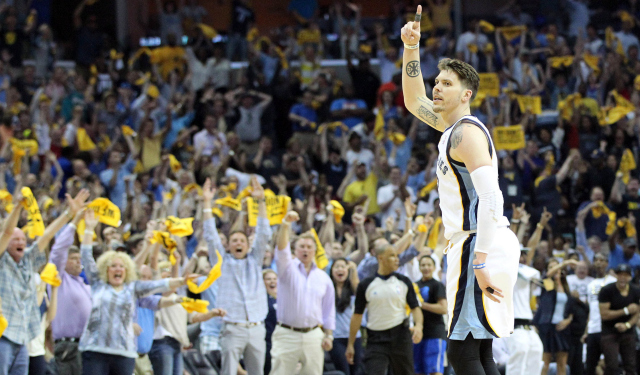 More Offseason Analysis: Coaching changes, news | Free Agency | Draft
Free agent swingman Mike Miller is being pursued by the Memphis Grizzlies, Oklahoma City Thunder, Denver Nuggets and Cleveland Cavaliers, according to Yahoo Sports' Adrian Wojnarowski.
Market price for free agent Mike Miller is rapidly rising, sources tell Yahoo. Memphis. OKC. Denver. Yes, Cleveland. $4-4.5M per year.

— Adrian Wojnarowski (@WojYahooNBA) July 9, 2014
That's quite a price tag for Miller, considering it looked risky when the Grizzlies signed him to a one-year deal after the Heat amnestied him last summer. Miller had battled numerous injuries in Miami, but upped his value by suiting up for every single game in Memphis this past season. He deserves credit for that.
Miller made 46 percent of his three-pointers with the Grizzlies, and that's the main reason he's so sought-after. His rebounding and assist rates decreased in Memphis, and at 34 years old he's not as versatile as he used to be. Still, that shooting is extremely attractive to teams trying to win now. Remember, Jodie Meeks agreed to a deal worth more than $6 million per season.
LeBron James reportedly reached out to Miller last week -- if the superstar leaves the Heat, he'd be interested in the sharpshooter joining him, according to Yahoo Sports' Adrian Wojnarowski. 
A year after his own high-profile franchise switch, Kevin Durant chimes in on Kyrie Irving

Miami is on Irving's list, but this package still wouldn't be enough to get a deal done

Some teams want to fight the Warriors, others want to 'fight' for the right to draft Michael...
Oklahoma City has reportedly offered the MVP a five-year extension worth over $200 million

The big man was a big part of the Warriors' championship run last season

The Cavs jokes were out in full force after Golden State reportedly agreed to sign Antonius...