Report: Hawks bringing 2nd round pick Mike Muscala in from Spain
The Atlanta Hawks are reportedly signing second round pick Mike Muscala from his Spanish team to give the Hawks some much needed depth inside.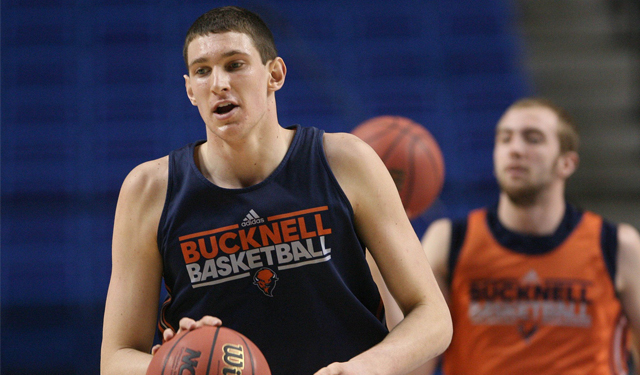 The Atlanta Hawks' interior is devastated with injuries right now. Al Horford is out for the season with a pectoral injury, Pero Antic is healing a fracture in his ankle, Gustavo Ayon is out with a shoulder injury, and Paul Millsap will miss the next couple of games with a bruised right knee. The Hawks are turning to a second round draft pick in the 2013 draft to provide some much needed depth inside for them. 
The Atlanta Journal-Constitution says that Mike Muscala out of Bucknell University is working on a buyout with his team in Europe to join the Hawks in-season to help inside. Muscala was the 44th pick by the Dallas Mavericks in this most recent draft and then traded to Atlanta to complete the deal that sent Shane Larkin to the Mavericks for Lucas Nogueira, Jared Cunningham, and Muscala.
Mike Muscala is en route to the United States to sign with the Hawks.

The center will join the team after completing a buyout of his contract with his Spanish League team. The pending roster addition was first reported by Sportando Tuesday and cited Muscala's European agent Misko Raznatovic. The Atlanta Journal-Constitution confirmed the report with two people familiar with the sitution, including a former coach of Muscala. The Hawks have not commented on the report. The website HoopsHype reported Monday that the Hawks had inquired about Muscala.
Muscala played with the Hawks in the Las Vegas Summer League before signing with Blusens Monbus Obradoiro in the ACB League in Spain. In Spain, Muscala has been playing well, averaging 14.6 points and 7.8 rebounds in 26.8 minutes. He's shooting 54.0 percent from the field and 87.1 percent from the free throw line. 
At Bucknell, he scored over 2,000 points in his four years there. His last season, he averaged 18.7 points and 11.1 rebounds. He's the second all-time leading scorer in the Patriot League behind C.J. McCollum of the Portland Trail Blazers, also selected in the 2013 draft. He's the all-time leader in Patriot League rebounding.
The former Clipper apparently had some tricks up his sleeve after a chippy game

The Rockets were apparently looking for Austin Rivers and Blake Griffin after a chippy gam...

If they don't meet in the Finals again, let's appreciate every one of the 27 matchups since...
D-Wade picked up the steal and got creative on the fast break as the Cavs headed into half...

Despite the embarrassing hiccup, the youngest Ball had himself a pretty great day on the c...

The players were both ejected in the closing seconds, then continued their discussion off the...