Report: Hawks haven't decided on max contract for Josh Smith
The Hawks are still weighing their options when it comes to Josh Smith as the deadline approaches.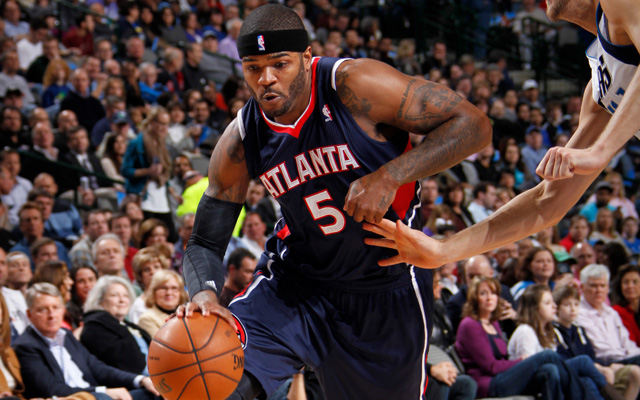 Josh Smith reportedly wants a max contract.
(Getty Images)
All signs point to a trade of Josh Smith by the Atlanta Hawks. To review:
He's set to be a free agent this summer.
The Hawks have been fairly set on rebuilding and not adding a lot of salary.
Smith is set for a massive payday after taking a below-market deal as a restricted free agent several years ago.
Smith has been unhappy with the team in general, though not outspokenly so, for years.
And yet, this situation has been brewing for years and no trade has been made. And according to the
Atlanta Journal-Constitution
,
the Hawks haven't made up their minds on giving Smith that payday or not
:
The Hawks forward will become an unrestricted free agent at the end of the season. Both the Hawks and Smith have said there will be no contract talks during the season, each preferring to wait until after the year to decide in which direction to go. Smith did tell the AJC's Jeff Schultz that he believes he is worth a maximum contract.

In the simplest of terms, following the season Smith can get a maximum deal of four years, about $70 million from another team or five years, about $94 million from the Hawks. Certainly, there is the possibility of something in between.

There have been no contract talks between the Hawks and Smith since the start of the season. I am told, by multiple sources, that a report that the Hawks have told Smith they will not pay him a maximum contract and are actively trying to trade him is not accurate.
Now, there's too much smoke for there not to be fire when it comes to the trade talks. The Hawks are clearly taking and perhaps making calls. Again, as I will be telling you many times over the next week and two days in advance of the trade deadline, every single team is saying they are not making, only taking calls. It's a pretty pitiful attempt at leverage but part of the playbook nonetheless.
But is it out of the question to think the Hawks might re-sign Smith? He's a legitimate near-All-Star with his best years ahead of him. He's been a career-long Hawk. And they won't find a better player in free agency, outside of Dwight Howard. And given Howard and Smith's relationship, dating to their childhood, retaining Smith might be the best way to lure Howard from LA to Atlanta.
It's a longshot, but if you're Danny Ferry, with the kind of cap room and contracts they have, you can afford to take those kinds of longshots for a player like Howard.
So let's not try to assume Smith will be moved, or that he won't be retained. The Hawks have proven over and over again the last few years that the Smith situation is more complicated than it seems.
The Hornets are reportedly looking to move their franchise point guard

We've got all the scores, highlights and news for Thursday night

The Sixers big man got his first All-Star selection -- and maybe some revenge -- on Thursd...
It appears some players are not entirely taking the All-Star voting process seriously

There were some weird discrepancies between the fan, media and player votes

LeBron and Steph will be the captains for the 2018 NBA All-Star Game