Report: Hawks pitching Deng on playing with Sefolosha
Atlanta targeted friend of Deng, who along with Korver could set up significant free agent upgrade for Hawks.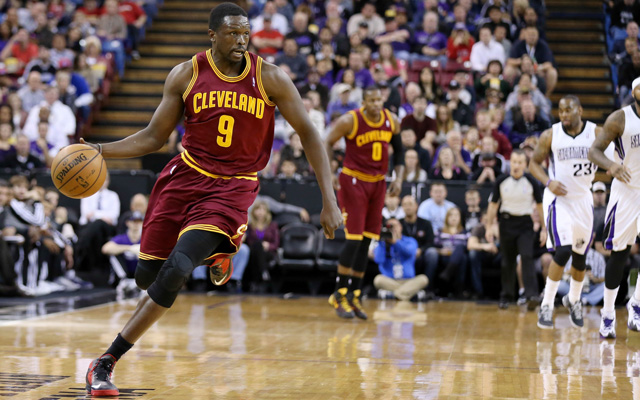 More Offseason Analysis: Updating Free Agency news | Top 40 free agents
USA Today reports that the Atlanta Hawks are preparing a big pitch to Luol Deng, and that their four-year, $12 million deal for Thabo Sefolosha is aimed at luring Deng: 
While free agent small forward Luol Deng isn't expected to visit with interested teams until next week, the Atlanta Hawks appear to be making an early pitch.

According to a person with knowledge of the situation, Deng was expected to speak with Hawks coach Mike Budenholzer about the possible partnership on Thursday night. The person spoke to USA TODAY Sports on the condition of anonymity because of the private nature of the talks.

The Hawks are slated to have about $11.5 million in salary cap room once the free agency moratorium lifts on July 10. Their recent agreement with former Oklahoma City Thunder guard Thabo Sefolosha on a four-year, $12 million deal appears to have helped their efforts to land Deng. The two players were together with the Chicago Bulls from 2006 to 2009 and had a very good relationship. The same goes for Hawks sharpshooter Kyle Korver, who was with Deng in Chicago from 2010 to 2012. Deng spent his first nine seasons in Chicago before he was traded to the Cleveland Cavaliers in January.
via Atlanta Hawks prepare for early pitch to Luol Deng.
It's a fascinating side-story to free agency, how inside connections spur deals. If the Hawks don't get Deng, they have a good defender on a decent deal. If it helps get Deng, great.
Deng's a superb fit on the Hawks. The need perimeter defense badly and their shooting coaches could help pull his percentages back to peak levels. He would thrive in their ball-movement-heavy system and help make the Hawks a top-three seed (where they were last year before Al Horford's injury). Jeff Teague, Korver, Deng, Millsap, and Horford would make a huge jump defensively and could still produce offense. 
You have to like what the Hawks are doing, if they can pull this off. 
Westbrook's late layup gave the Thunder a 109-108 victory

LeBron became the seventh player in league history to reach the milestone

There were a few things that stood out from Tuesday's All-Star selections
Here are three players from each conference who had legitimate claims to make the game

LeBron achieved the milestone in the first quarter Tuesday

Here are the full lineups for the 2018 NBA All-Star Game