Report: Hawks turned down Pau Gasol - Josh Smith trade due to Lakers' high price
The Hawks reportedly rejected an offer for Pau Gasol earlier this week from the Lakers. A look at what it means for both sides.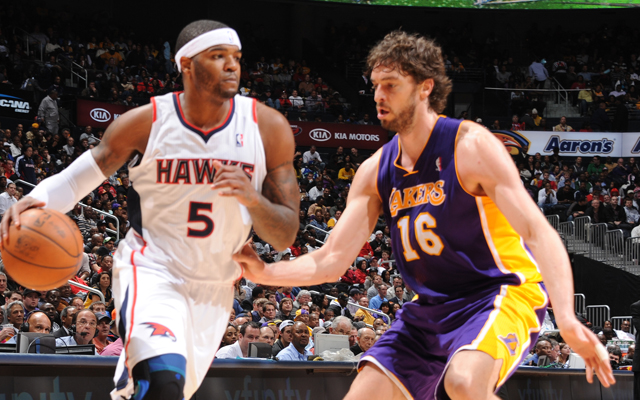 The Hawks rejected an offer for Pau Gasol in exchange for Josh Smith because L.A. wanted more.
(Getty Images)
The Hawks have known Josh Smith wants out of Atlanta for some time, but haven't really aggressively approached any deals until the last month or so. New GM Danny Ferry is interested in remaking the roster and so he's opened the phone lines finally. 
One such offer reported a few days ago involved Pau Gasol. On Sunday, the Atlanta Journal-Constitution reported that the reason the deal fell apart was due to the pricetag the Lakers are putting on Pau Gasol. 
In addition to Johnson, the Hawks have been open to moving forward Josh Smith though they've resisted offers so far. Apparently the Hawks balked at a potential deal with the Lakers for Pau Gasol because L.A. wanted another major piece to go along with Smith. That would leave the Hawks with less than six players under contract, less talent, and no short-term cap relief because of the $38 million and two years remaining on Gasol's contract.
via Atlanta Hawks: Danny Ferry focused on salary cap 'flexibility' with trades | Atlanta Hawks.
We'll examine this from both sides.
From the Hawks' perspective: The problem remains the same for the Hawks. Smith is too valuable to move for a loss on talent return, and not good enough to do what is necessary to placate him as a star. It's a tricky puzzle that the Hawks have found themselves in. Smith has honestly played worthy of an All-Star appearance the past two seasons. 
He also has wanted a trade these past two seasons. 
But it's good that they haven't just executed a trade for trade's sake. With Joe Johnson on the books, they have to be careful in not staying in a position where they have to still try and compete after giving up Smith for peanuts. They have to get good return.
Whatever the Lakers were seeking in return, Gasol is the one that is far more considered damaged goods while Smith's best years are in front of him. Wherever they move him, they seem to be invested in not simply giving away the farm. 
The Hawks have never really put Smith at the top of their priorities list. When he entered restricted free agency a few years ago, they simply waited. And waited. And waited. Finally, the Grizzlies, with a few bucks left under the cap, threw out a moderate offer for Smith that was below maybe his true value. Smith signed it, hoping the Hawks wouldn't match. 
They did. 
They've been neither excited to have him, nor willing to part with him, ever since. Whether that's due to his maturity, his game, or his contract value is unknown. But Ferry has entered, and as Ken Berger notes, been aggressive in reshapig this team. The trick now is to find that delicate balance between ensuring they move him and not moving him for too little. 
From the Lakers' perspective: Same old Lakers, expecting the highest price for whatever they've put out on the lawn. 
It's not enough that they would get a younger, more athletic, more aggressive, All-Star worthy power forward entering his prime for a player that has been absolutely eclipsed in the past two playoffs, the Lakers have to demand that they get an additional piece. And in a lot of deals in the past, that's worked.
It's exerting maximum leverage to get the kind of sweetheart deal that has long kept them at the top of the league. In short, the Lakers are attempting to revamp their teams with All-Stars in exchange for, maybe not their trash, but their unwanted items. Their Craigslist star, so to speak. 
If the Lakers really want to get a replacement for Gasol, they can do that pretty easily and get a quality player. But they can't get a haul. Gasol was considered at that tier 18 months ago. No longer. 
The Lakers have made a lot of noise about keeping their team intact. It seems more and more like exertion of leverage. The Lakers are interested in reshaping their team, they're just very good at getting the absolute most out of whatever they put on the table. 
Our advanced computer model simulated Saturday's Thunder-Cavs game 10,000 times

The Jazz are reportedly looking into trading Rodney Hood before the Feb. 8 NBA Trade Deadl...

The Cavaliers are ready to reset everything if they have to. Their interest in Lou Williams...
It sounds like the Cavaliers are going to be active before the NBA trade deadline on Feb....

We've got all the scores, highlights and news for Friday night

George Hill, who is unhappy in Sacramento, could be a solution to Cleveland's backcourt si...