Report: Heat and Luol Deng are 'significantly apart' on money
Miami not close to signing veteran wing, despite strong incentive to add him after departure of LeBron James.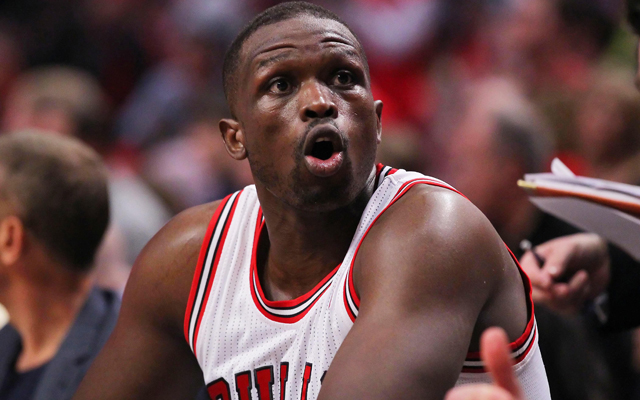 More Offseason Analysis: Updating Free Agency news | Free Agent tracker
ESPN reports that the Miami Heat remain far apart from Luol Deng in negotiations to add the veteran wing to replace the gaping vacuumous hole on the wing after the departure of LeBron James. 
As of last night, Heat & Luol Deng still significantly apart on salary, sources say. Deng's been turning down $10M/year offers for months

— Brian Windhorst (@WindhorstESPN) July 13, 2014
Yahoo Sports reports that the competition for Deng is still between several teams: 
Heat president Pat Riley and Deng's agent Ron Shade had talks on Saturday and plan to reconnect on Sunday morning.

Miami is competing with several teams, including Atlanta and Dallas, to sign Deng.
via Sources: Heat negotiating with Luol Deng as possible replacement for LeBron James - Yahoo Sports.
Deng averaged 16 points and 5.7 rebounds last season for the Bulls and Cavs, shooting 43 percent overall, including just 42 percent when he was traded to a new system in Cleveland. He provides more value as a perimeter defender, though. 
The Heat could use Deng, particularly to cover for Dwyane Wade's dwindling athleticism affecting his defense. Deng doesn't turn 30 until next April, so he's really just hitting his prime, despite concerns over a possible slide in the coming seasons. Much of that is related to Tom Thibodeau's running of Deng into the ground minutes-wise during his time in Chicago. 
Deng is a quality teammated and a positive addition, and would help the Heat remain playoff-competitive following James' departure. Reports last season had indicated Deng was looking for as much as $13 million per season in his next contract. 
We've got all the scores, highlights and news from an NBA Tuesday

The former Slam Dunk Contest champion will take his talents to Tri-State

Do NBA players have look-a-likes from famous paintings? We found out on the new Arts & Culture...
Larry Hartstein is on quite a run in picks involving the Suns and the Trail Blazers

Rodman's agent says he is urging the ex-NBA star to check into rehab

The players and referees are working to fix a relationship that has recently been deterior...