Report: Heat 'blindsided' by LeBron James decision to return to Cleveland
LeBron James is headed home and the Heat can't believe it.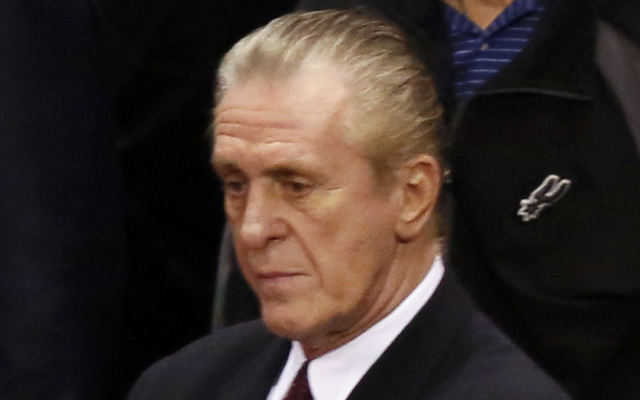 More on LeBron's return: James chooses Cleveland | Doyel: Welcome back to Ohio
The Miami Herald reports that the Miami Heat were 'blindsided' by LeBron James' decision to return to the Cleveland Cavaliers Friday. 
Can't write emphatically enough how blindsided the Heat is right now by LeBron's decision. At start of free agency, Riley was confident.

— Joseph Goodman (@JoeGoodmanJr) July 11, 2014
ESPN reports that James did inform Pat Riley and Mickey Arison prior to the SI.com essay on Friday, but I'm sure that comes as small relief.
Correction: LeBron spoke to Pat Riley and Micky Arison on the phone before essay posted. They were informed first.

— Brian Windhorst (@WindhorstESPN) July 11, 2014
Meanwhile, Mickey Arison admitted as such:
I am shocked & disappointed in today's news. However I will never forget what Lebron brought us for 4 years. Thanks for memories @KingJames

— Micky Arison (@MickyArison) July 11, 2014
Miami had been the prohibitive favorite to land James since James, Chris Bosh, and Dwyane Wade had met over lunch before free agency started. The three then opted out of their contracts, further fueling speculation that that decision would only have been made if they were already in agreement on a plan to return.
Wade traveled with James back to Miami Thursday night, which may have been something of a 'farewell' trip for the two of them. 
Without James, the Heat face a major rebuilding project with no longterm pieces. The Cavaliers even have the rights to their draft pick. We broke down Miami's depressing situation here. 
The entire way through this process, Miami-based media remained confident based off their sources that James would return. It truly does seem like no one in the Heat organization expected James to make this move, even if in retrospect, it seems like it had been coming for years. 
Leonard's relationship with Spurs also reportedly strained because of how injury has been...

San Antonio hasn't missed the playoffs in 20 years, but the road is rocky this season

Last year's MVP finalist has missed all but nine games this season
The design for the patch is still being worked on

The explosive forward and upcoming free agent is having a career year

Cuban said on Dr. J's podcast that losing is Dallas' 'best option'