Report: Heat finalizing contract extension for Erik Spoelstra
Miami coach has lead team to three straight Finals appearances and two straight titles, has emerged as one of the best young coaches in the NBA.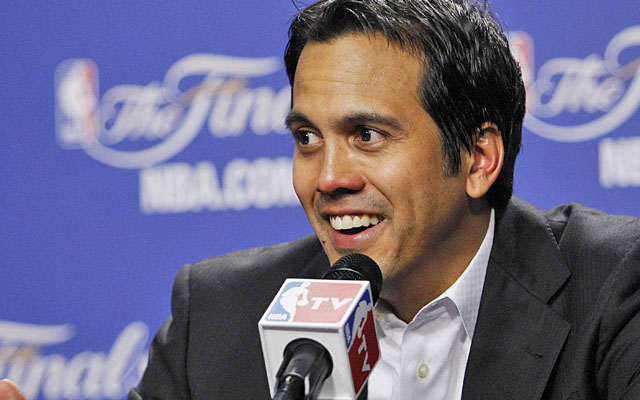 Yahoo Sports reports that the Heat are finalizing a multi-year extension for head coach Erik Spoelstra. Spoelstra, 42, is 260-134 all-time with the Heat, and 170-60 during the LeBron James, Dwyane Wade, Chris Bosh era. After being considered the weak link for much of the first two years of the Triad's reign including a Finals loss in 2011 to Dallas, he's emerged as one of the best coaches in the league. He's 46-21 over the past three seasons in the playoffs. 
Spoelstra rose up from video coordinator to assistant coach to head coach when Pat Riley stepped up to take over just the GM duties for Miami in 2008. Known for his robotic, lifeless answers to the press, Spoesltra has helped build the winning culture in Miami while containing the enormous amount of ego on the superstar team. He was also instrumental in the Heat's 2012 decision to switch to a small-ball approach that unlocked LeBron James' full potential and maximized the team's roster of perimeter shooters. 
Locking him up is a no-brainer for Miami. Spoelstra was a good coach with young talent in 2008 and 2009, and a leader of legends starting in 2010-2011. He's good, he's consistent, he lacks a major ego, and he's only 42. 
Jordan Bell had himself a night against Portland

The younger Ball brothers are heading to BC Prienai, but that could spell trouble

Not many games, but still plenty of action and intrigue Monday in the Association
SportsLine's advanced computer model simulated Tuesday night's Lakers-Knicks game 10,000 t...

The Reno Aces are concerned about the new WNBA franchise stealing their thunder

Hinkie parted ways with the 76ers in 2016 after drastically changing the direction of the...