Report: Heat looking at Okafor, Barbosa, Crawford to add veterans
Veteran free agents top the Heat's list as they look to round out roster.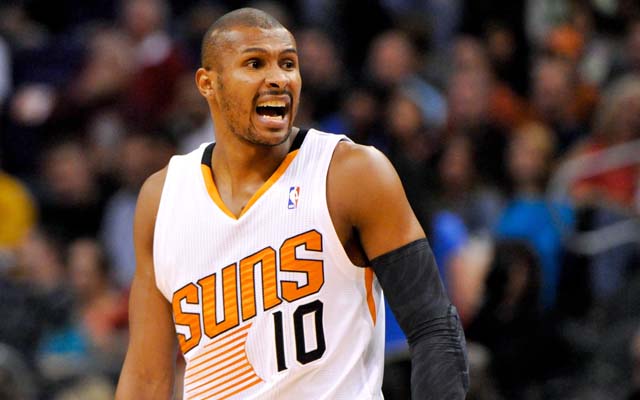 The Miami Herald reports that the Heat are aggressively looking for another two-guard or a center to add to their rotation, and free agent Leandro Barbosa and Emeka Okafor are among the players they're interested in: 
The Heat is serious about adding another shooting guard and a big man if it can find two good ones willing to take the veteran's minimum. After recently working out Jordan Hamilton who signed with Toronto and Chris Douglas-Roberts, the Heat also has inquired about Leandro Barbosa and Jordan Crawford, who both hold appeal to Miami.

Among power rotation players, the Heat has shown interest in Emeka Okafor and has considered Ekpe Udoh. Preliminary inquiries were made on Andray Blatche and Jason Maxiell. Agent David Falk said he talked to the Heat about Elton Brand but that Brand is unlikely to end up here.
via Marlins have a plan with Stanton; Heat pursues free agents; Dolphins, UM chatter | Sports Buzz.
It's a pretty good list that includes a few guys who are surprisingly still on the market. Okafor is recovering from a serious neck injury that cost him the entire season last year, but he would be a perfect fit next to Chris Bosh, providing shot blocking and rebounding. Udoh has long been a high-upside prospect but has never been able to crack a rotation despite his sterling plus/minus numbers. Maxiell would seem to be a bit redundant next to Udonis Haslem. 
Barbosa was still surprisingly effective last season, and would give them a scoring burst who can shoot from the outside, and a veteran, who they tend to lean towards. Crawford might be the best fit. He's in his prime, made significant strides last season in being a playmaker, and could work well with Mario Chalmers and Norris Cole off the bench as a sixth man. 
We'll see if the Heat decide to pick up someone, but their list shows there's still value on the market. 
The Cavaliers, you might have heard, are slipping

Here's how to watch Jimmy Butler and the Wolves take on Blake Griffin and the Clippers

James Harden, Chris Paul take on one of the hottest teams in the Eastern Conference
We've got all the scores, highlights and news from all of Sunday's games

The Rockets beat the Warriors 116-108 on Saturday night

The Cavaliers gave up 148 points in their loss Saturday afternoon to the Thunder