Report: Heat plan to pursue Carmelo Anthony in free agency
Miami intends to try to add a fourth star if Carmelo Anthony opts out.
• 2 min read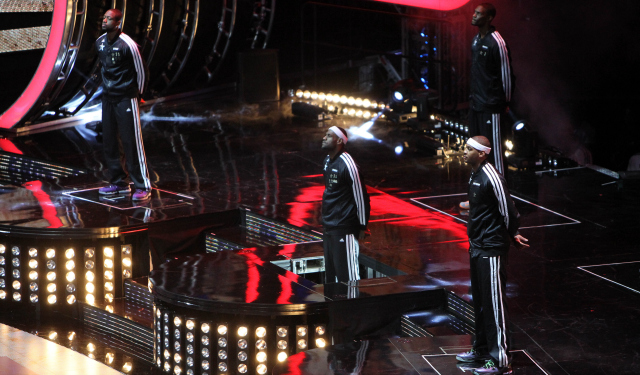 More Offseason Analysis: Coaching changes, news | Free Agency | Draft
The Miami Heat have huge plans for free agency this summer, as they are internally discussing making a play for New York Knicks star forward Carmelo Anthony, according to ESPN's Brian Windhorst and Marc Stein:
Sources told ESPN.com that Heat officials and the team's leading players have already started to explore their options for creating sufficient financial flexibility to make an ambitious run at adding New York Knicks scoring machine Carmelo Anthony this summer in free agency.

…

Sources say internal conversations within the Heat organization about pursuing this course have run concurrently with Miami's bid to win a third consecutive championship, with sources adding that James in particular is likely to try to recoup potential salary sacrificed through fresh off-court business opportunities if the Heat's new dream scenario does come to fruition.
Such an acquisition would require LeBron James, Dwyane Wade and Chris Bosh to all opt out of their contracts before the beginning of free agency, and then to all take pay cuts. Anthony said before the season started that he would become a free agent, but new Knicks president Phil Jackson is trying to convince him not to. The Heat would could also ask reserve big man Udonis Haslem to decline his $4.6 million player option for next season. 
It is not all that dissimilar to the plan Miami executed in 2010, and that one also required some tricky maneuvering. It will be even tougher this time, as the NBA's collective bargaining agreement makes it extremely difficult for teams to pull off this kind of thing. As a matter of fact, NBA commissioner Adam Silver fielded a question about competitive balance and "super-teams" before Game 2 of the NBA Finals, via the Miami Herald:
Asked whether the breakup of the Heat or Thunder would be considered a success for the league under a labor deal designed to create competitive balance, Silver said: "I don't know if I would necessarily call it a success. Our goal was not to break up teams. But ultimately, any type of cap system in essence is a form of player sharing.

"So to the extent that James Harden leaves Oklahoma City and the Houston Rockets then become a competitive team, that's a positive thing for the league. Part of the purpose of a cap system is so you don't see too much talent aggregated in one market."
The Heat, under Pat Riley, have always thought big. This is thinking colossal. Some scoffed at the idea of James, Wade and Bosh teaming up before it actually happened, and that should have taught us something. If all parties of motivated to make it happen, it's possible. 
We've got all the scores, top plays and news from a busy NBA Friday

Butler didn't put any pressure on his right leg as he was helped to the locker room on Fri...

Our advanced computer model simulated Saturday's Magic vs. 76ers game 10,000 times
Several playoff contenders could use the services of Ilyasova, who's nearing a buyout agre...

Durant says he probably wouldn't have gone to college because he 'needed the money'

Ball, who has missed the last 15 games with a sprained MCL, will be on a minutes restricti...