Report: Heat teammates, LeBron confidants believe he stays in Miami
It's too early for declarations, but indications are that the Heat star stays on South Beach.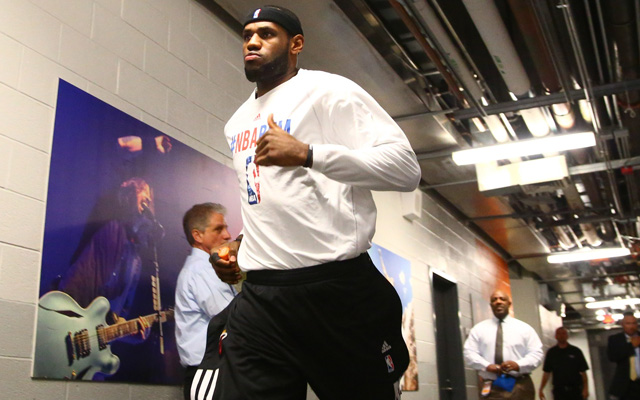 Bleacher Report's Ethan J. Skolnick reports that LeBron James' teammates don't expect him to leave the Miami Heat this summer as a free agent. 
Mostly, though, I'll be surprised because some of those closest to him will be surprised. That includes his teammates, those with whom he's spent most of his time for the past eight months, those with whom he tends to communicate most freely. They haven't wanted to touch this topic on the record, at least not honestly and completely, but some have privately pooh-poohed—even eye-rolled—the "leaving" chatter for months. They continued to do so even after Cleveland won the lottery on Tuesday. 

No, James won't talk about his future to the prying press, from Miami, New York or otherwise, and that's been for the best so far. 

But I wouldn't surprised if he's given hints to one, or some, of those who seem so sure.
via LeBron James Keeping People Guessing...but Odds Favor Miami | Bleacher Report.
Just going to put this out there. If you polled the Cleveland Cavaliers in 2010 if they thought LeBron James was leaving Cleveland, they would have "pooh-poohed" the idea as well. Who woud think LeBron would leave a team located in his home state that made the Eastern Conference Finals after reaching 60 wins? Who would have really thought that was coming, if they were in the thick of it? NBA players, when they're winning, think their situation is the best, most times. They don't see the whole picture. 
More notable? Skolnick's phrasing of "those close to him." James is his own man, he makes his own decisions, now more than ever after his maturation the last few years. But he has pride in his friends and associates. He values the people he calls "family." If they don't think he's leaving Miami, that's significant. 
Still, a lot can happen between now and July 1. I believe James stays because he values the Heat organization, its "family" approach, its talent, its leadership, and his life there. But the thing is, James doesn't have to decide now. He has time to see how everything shakes out. And in the end, he'll do what's best for him and his actual family. He's earned that power by being the player he's become. 
Is this rock bottom for the Cavaliers because it sure feels like it is

Wade, as he's done so many times in his career, threw it up to LeBron for the thunderous f...

The Warriors coach added there should be no shame in being picked last since everyone's an...
We've got all the scores, highlights and news from all of Saturday's games

The two teams have reportedly not had any substantial discussions to this point

Oladipo may be getting most of the shine, but this second-year big man has been phenomenal...