Report: Heat, Thunder, Blazers, Raptors join Mavs as Carter suitors
Veteran guard set to hit free agency and will have suitors including Miami, Thunder, Blazers.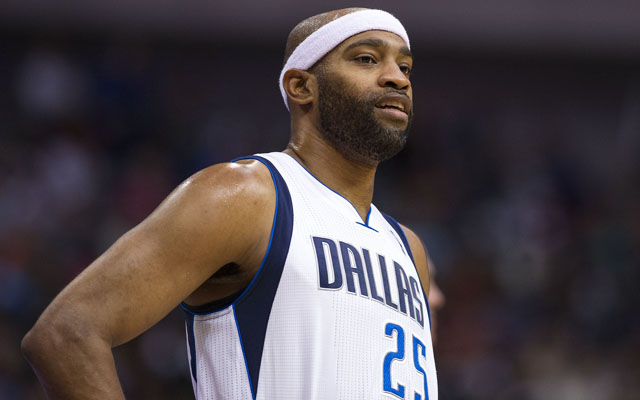 More Offseason Analysis: Coaching changes, news | Free Agency | Draft | Rumors
ESPN reports that as Half-Veteran, Half-Amazing wing Vince Carter gets set to hit free agency, his list of suitors is already stacking up. 
There is strong mutual interest in Vince Carter's return to the Mavericks, but several playoff teams are expected to express interest in the 37-year-old swingman. The Miami Heat, Oklahoma City Thunder, Portland Trail Blazers and Toronto Raptors are among the playoff teams seen as potential fits for Carter, a source said.
via Source: Several contenders likely to bid on Carter - Dallas Mavericks Blog - ESPN Dallas.
Let's break down the options. 
Mavericks: He has been successful there, it's a veteran team that wants to win now, no drama and he has a preassigned role there. It's a natural fit for him to return but he could see his minutes drop depending on how free agency goes. 
Thunder: Just what the doctorer ordered, kind of. The Thunder need a shot-making and creating wing, and they'd like to have some experience with it. Carter fits that perfectly. But they could use some youth and athleticism, which isn't Carter's strong suit at this point. 
Heat: They need to move away from the old guys but Carter does provide them with the ability to produce off the dribble, and his athleticism isn't completely gone. He'd be a decent replacement for Shane Battier. 
Trail Blazers: They could use some veteran experience off the bench and Carter could work wonders in their system. He knows how to make the extra pass and honestly would immediately be one of their better defenders immediately... where am I? 
Raptors: Welcome home? The guy who has been booed consistently since bailing on the team in free agency over a decade ago could return as part of a retro movement to make the Raptors cool with "brand ambassador" Drake. (No seriously, that's a thing.)
Carter, 37, averaged 11.9 points, 3.5 rebounds, and 2.6 assists per game last season for Dallas. The Mavericks were outscored by one point per 100 possessons with Carter on the floor last year. 
Beverley handcuffed Lonzo on the court, and the emotion carried into the locker room

Ball's eagerly awaited first NBA game didn't go the way Laker fans hoped

Griffin can still hand out posters with the best of them
The Knicks forward is a bucket-getter in the truest sense of the term

On the TNT broadcast, even Shaq finally admitted that he likes Joel Embiid's game

The Warriors new Nike classic uniforms will be revealed Thursday