Report: Heat's Big Three discussing how contracts will be structured
LeBron James, Dwyane Wade and Chris Bosh are reportedly discussing how their contracts will be structured to maximize roster flexibility.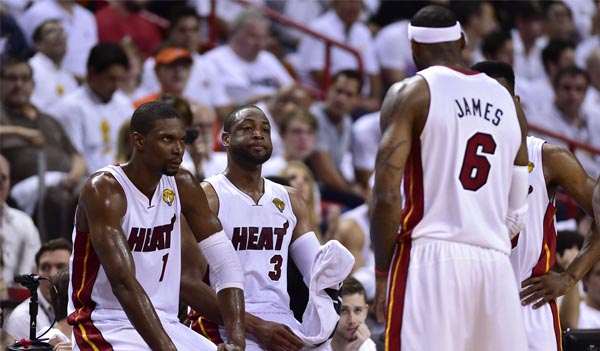 More Offseason Analysis: Coaching changes, news | Free Agency | Draft
The Miami Heat's future isn't as sure of a thing as we all assumed heading into the NBA Finals, because the sour taste of such a convincing loss to the San Antonio Spurs brought about real questions with Miami's core. Will Dwyane Wade hamper any future decisions the Heat can make? Will Chris Bosh continue to sacrifice his own individual numbers and success if the team isn't winning titles? Does LeBron James want to go somewhere else to have a potentially better chance of staying in the title-winning mix?
With it looking like all three players will have opted out of their deals before free agency starts on Tuesday, the Heat can rest a little easier with the idea of keeping the Big Three together. ESPN.com is reporting the three players have been discussing the potential structuring of the three upcoming contracts. It's a good sign that they'll all re-up with the Heat and find a way to make the roster flexible enough to improve.
After agreeing to all opt out of their contracts together, Miami Heat stars LeBron James, Chris Bosh and Dwyane Wade have been discussing financial terms of new contracts among each other, sources told ESPN.com.

Bosh's agent says his client has not decided officially on whether to opt out, but sources told ESPN The Magazine's Chris Broussard that the All-Star big man will indeed follow suit and choose free agency by Monday's midnight ET deadline.

The talks between the three players is the strongest indication yet that James plans to re-sign with the Heat after he becomes a free agent on Tuesday. Unlike in 2010 when all three took nearly identical contracts, the discussions this time have included the possibility that James would draw the highest salary among the three, sources said.
The Heat have roughly $60 million in upcoming salary cap space, in theory. With cap holds of their free agents, that space doesn't actually exist but it's the relative flexibility the team's payroll possesses. The only players under contract will be Norris Cole and Shabazz Napier (when he signs his rookie deal). With reports that LeBron wants the max (starting at $22 million) and Bosh wants $16 million per season, that leaves them with roughly $22 million to play with on Wade's contract and bringing back others.
Ray Allen and Udonis Haslem have cap holds totaling about $14.3 million, so really there isn't much wiggle room unless they renounce the rights to Haslem, which would free up $8.2 million of those cap holds. Or they can sign him to a long-term deal at a relatively low rate to give them cap space. Is that enough to add someone like Kyle Lowry or Marcin Gortat or whatever big-ish free agent they pursue? Or will they go with plug-and-play veterans to bolster the bench and hope the starting lineup fills in nicely for them?
The biggest key to all of this will be how much Wade demands in his next deal and if the Heat are able to bring back Haslem and Allen at competitive bargains. But the fact that they're discussing such structuring makes things currently look good for the Heat, as long as they can agree to a proper balance.
Indiana hasn't hosted the NBA's star-studded event since 1985

Is the hype fair, or are these three men really above their peers as the NBA's best sideline...

SportsLine simulated Wednesday's Pacers vs. Thunder game 10,000 times
An Alabama native, Barkley campaigned for Jones leading up to Tuesday's election

Kerr knew just what to say after Jones pulled off an upset in Alabama

The future of the league was on display on Tuesday night