Report: Heat's Chris Bosh adds bulk as he finally starts to accept center role
Chris Bosh is adding muscle in order to handle the rigors of playing at center for the Heat full-time next season.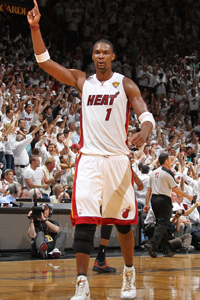 Bosh is heading to the five for good.
(Getty Images)
When the Triad was formed in 2010 in Miami, Chris Bosh almost immediately let it be known he didn't want to play center. Bosh is a stretch four in nearly the purest sense, and he has never been the type to go to the block and do the dirty work. His is a finesse game, which isn't bad; it's a good and rare thing. But Bosh didn't want to mess with his timing or rhythm by having to add weight. He actually lost weight for the 2011 season. 
After winning the title in 2012 with a model that saw Bosh used most often in the center role, or at least "in the least guard role" on a team redefinining traditional position elements, Bosh is starting to accept things. After all, it worked last year. The Miami Herald reports Bosh has started adjusting his conditioning and training to prepare for a full-time role as center. 
Chris Bosh is adding bulk (six pounds of lean muscle) to prepare for the rigors of playing a full season at center
via Sports Buzz.
Bosh had a higher regular season PER at power forward last year, but had a higher net PER (produced vs. allowed) at center, according to 82games.com. He also shot better but rebounded and blocked shots worse at center. The ways those metrics are established are messy, but they still give us a snapshot of what Bosh at center looks like.
Bosh won't be the traditional center. He'll be more of a combination of Mehmet Okur's outside abilities (Bosh's 3-pointers were monstrous late in the playoffs last year), Serge Ibaka (whose mid-range jumper helped OKC to the Finals), and Joakim Noah (using his length to generate tip-ins and making plays with his length rather than his size). The bulk will help him with endurance though, allowing him to sustain the beating that centers take. Bosh won't be posting up too much more, nor will the ball be going through him down low. He'll keep doing what he has been doing, just a little modified and a little bigger. 
It's a new positional world, but practical matters are still crucial to team success.
Golden State raised its second banner in three years. Now they start their run for another

Hayward's injury left the Celtics shocked for a moment.

The 11-carat rings hold more diamonds than any other ring awarded in any other major sport...
The Cavs were supposed to honor their ex-star but ended up not showing the tribute video

James has a plan for his oldest son if they were ever to meet in the NBA: 'I'll foul the s---...

NBA players expressed their emotions after seeing Gordon Hayward suffer a gruesome ankle i...