Report: Hedo Turkoglu has offer to play in Turkey for Fenerbahce
Orlando Magic forward Hedo Turkoglu reportedly has an offer from Fenerbah*e Ulker in Turkey to play basketball. Is it enough to get him to lower his waiving price?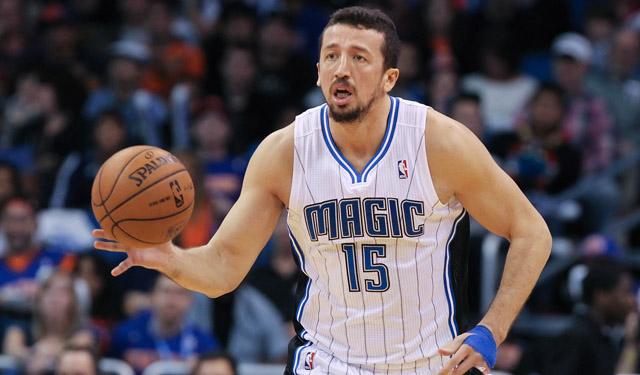 Orlando Magic forward Hedo Turkoglu is near the end of his professional career after 13 years in the NBA. The 34-year old Turkish forward played in just 11 games last season and has struggled to make plays and shoot the ball effectively over the past two seasons. With a price tag of $12 million for the 2013-14 season and only half of that guaranteed, it seems unlikely he'll be playing for Orlando next season.
One possible solution for Turkoglu is agreeing to a buyout for less money than Orlando is reponsible for and heading back to Turkey to play for Fenerbahçe Ulker. Can Pelister, a Turkish reporter from TrendBasket.net, is reporting that Fenerbahçe has offered Turkoglu $3.5 million per year in a deal to return to Turkey and play for them. 
According to reports in Turkey, Fenerbahce Ulker made an offer to Hedo Turkoglu, which worth $3.5M per year.

— Can Pelister (@canpelister) August 27, 2013
A source close to situation confirms Hedo-Fenerbahce news. "Talks between Hedo and Fenerbahce continues but nothing finalized yet."

— Can Pelister (@canpelister) August 27, 2013
The Magic are still trying to decide whether or not they should eat the full $6 million guaranteed to Turkoglu or if they should try to trade him and use his non-guaranteed $12 million deal to acquire more assets. The negotiations for a buyout would likely involve the Magic asking Hedo to take less than the $6 million price, which could be supplemented by this deal to return to Turkey if he's willing to agree to such a "loophole."
Turkoglu started his professional career in Turkey with Anadolu Efes, formerly known as Efes Pilsen, in 1996 when he was 17 years old and played there for four years before being drafted 16th in the 2000 NBA Draft by the Sacramento Kings. He came over to the NBA and quickly made an impact on a Kings team that was becoming one of the biggest obstacles in the NBA for the Los Angeles Lakers. He played in Sacramento for three seasons before being traded to the San Antonio Spurs where he played for one season.
In 2004, he signed with the Orlando Magic. He played there for five seasons and was a big part of the 2009 team that lost in the NBA Finals. He agreed to a sign-and-trade deal that sent him to the Toronto Raptors, but only played there for one year before being traded to the Phoenix Suns in the summer of 2010. During the 2010-11 season, he was traded back to the Orlando Magic but never quite regained the magic or shape Orlando saw from him in his first stint there.
(H/T - ProBasketballTalk)
The Rockets are still the NBA's hottest team, but don't sleep on the Spurs now that Leonard...

Kevin Garnett has no interest in working with Glen Taylor, but he'd gladly buy the Timberwolves...

LaVar Ball formed a pop up shop in New York to sell Big Baller Brand merchandise. The results...
The Cavaliers players took a stand against bullying on social media

The Rockets are gunning for their 10th consecutive win

Victor Oladipo just wants to live his life and enjoy his breakout season with his new team