Report: Hibbert 'rankled' by Pacers' addition of Bynum, starting slide
Was the addition of Andrew Bynum what started the Pacers' fall into disaster?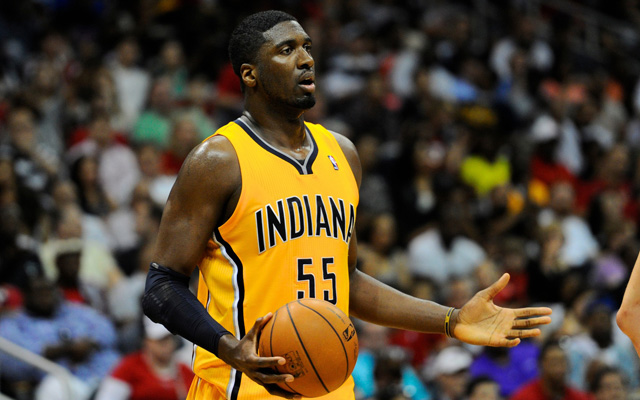 More postseason coverage: Playoff schedule, results | Latest news, notes
NBA.com reports that the signing of Andrew Bynum "rankled" Roy Hibbert, indicating that may have been part of what began the All-Star center's slow decline into... well, being horrible at basketball. 
Bringing Bynum aboard rankled Hibbert, a source told NBA.com, when coach Frank Vogel ran plays to get Bynum involved offensively that he rarely calls for Hibbert.

After a disastrous season in Philadelphia in 2012-13, a disappointing stay in Cleveland earlier this season and a one-night stint with Chicago to fulfill trade obligations in January, his two-appearance stop in Indiana leaves Bynum's basketball future in doubt. Brief as it was, it might have played a role in doing the same for Hibbert and the Pacers.
via Pacers' Bynum era over, but alleged impact on Hibbert remains « NBA.com | Hang Time Blog with Sekou Smith.
Hibbert, through eight playoff games, has 15 rebounds total. He's shooting 36 percent from the field, and has a 2.8 PER. At one point in the first round he had a negative PER which I've never seen for a playoff rotation player. 
There's been a... suspicious trend with Bynum since about 2011. Every team he's been signed to has suffered locker room dysfunction and on-court disaster. You can't reasonably blame Bynum for Hibbert's struggles... but I mean... Lakers... Sixers... Cavaliers... the dude has left more disaster in his wake than Godzilla. Or Isiah Thomas. 
Either way, Bynum's gone. Will that fix the Pacers and Hibbert? It's doubtful, but it's also weird that Hibbert would be threatened by the addition of a player who barely played and didn't fit his skill set (defense). Not a great look for Hibbert. 
We've got all the scores, highlights and news from all of Sunday's games

The Rockets beat the Warriors 116-108 on Saturday night

The Cavaliers gave up 148 points in their loss Saturday afternoon to the Thunder
Blatt made the comment before coaching in the All-Star Game in Turkey

Is this rock bottom for the Cavaliers because it sure feels like it is

Wade, as he's done so many times in his career, threw it up to LeBron for the thunderous f...