Report: Hoiberg, Kerr among candidates to replace Mark Jackson
Mark Jackson hasn't been fired yet, but there are other coaches that the front office would like to see coaching the Warriors.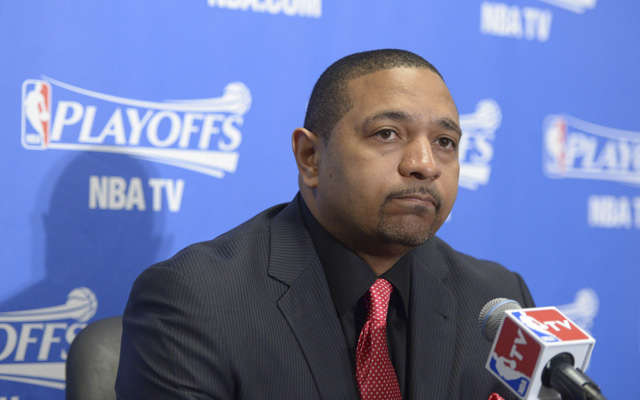 More NBA: Season Awards | Grades: East | Grades: West | Seasons in Review
The big question from critics of the idea that the Golden State Warriors could replace coach Mark Jackson is "Who are you going to get that's better?" After all, Jackson has led the team to consecutive playoff berths and a 51-win season which ended in seven games vs. the third seeded Clippers Saturday, even after Andrew Bogut's injury. 
Who would do a better job than the Preacher at leading this team? Well, the San Jose Mercury News reports that the Warriors have a few guys they'd at least consider to be better. 
It could be about Iowa State coach Fred Hoiberg -- is Warriors management's theoretical top choice willing to talk about coming to the Warriors?

Tell Lacob and general manager Bob Myers that Hoiberg or broadcaster Steve Kerr are live, interested options… and that might make Jackson's departure a fait accompli.
via X-and-O's, power, money, staffing, stars: Examining the many layers of the Warriors' Mark Jackson Decision – Talking Points.
Kerr is widely expected to take the Knicks job, but is reportedly still intrigued by the idea of a West Coast job. And for a former shooter, the Warriors are a dream. Kerr is more even-handed and less bombastic than Jackson, less controversial, and might create a more balanced offense than Jackson. 
Hoiberg has been on NBA radars for the past three years. Would hiring a college coach, even with NBA experience, really be an upgrade over Jackson who has actually delivered success? It's a complicated issue (read that link for more on how complicated), but one thing's for sure. If they do decide to make a change, Steph Curry won't be happy.
A report last week indicated Charlotte is looking to move Walker, along with one of its hefty...

Barea responds by claiming that none of Wall's teammates like him; the Wizards continue to...

Cousins finished with 44 points, 24 rebounds, and 10 assists
Love left Saturday's game, which the Cavs lost 148-124, due to illness

Kidd was fired by the Bucks on Monday afternoon

We've got all the scores, highlights and news from an NBA Monday