Report: If Celtics don't trade for Kevin Love, they could move Rajon Rondo
Boston's options are binary: Get Kevin Love or blow the team up.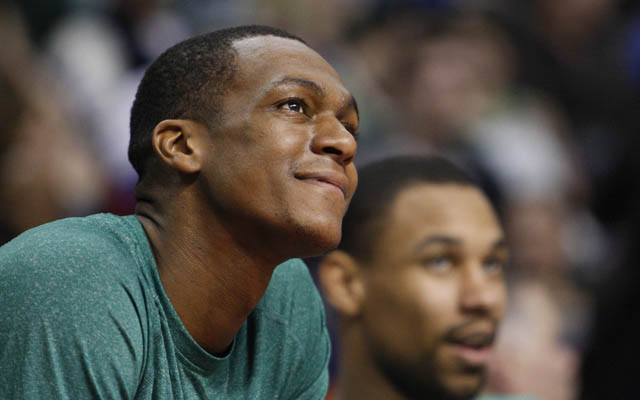 More Offseason Analysis: Coaching changes, news | Free Agency | Draft | Rumors
The Boston Herald reports that the Celtics basically have two options going into the offseason. Either they acquire Kevin Love or they blow the team up and trade Rajon Rondo. 
If the Celtics cannot get Love, they are planning to continue with the longer and more methodical rebuilding process, a process that would likely see Rajon Rondo traded. (An NBA source said they would also have a taker for Jeff Green if they chose to move him.)
via Celtics waiting game is labor of Love | Boston Herald.
Those are two pretty huge extremes. "Either we're going to build a contender with two All-Stars or we're going to completely rebuild and trade our best player."
The other part of this is the timeline. If the Wolves make a move on draft night to trade Love elsewhere (which they couldn't do until after the draft with the Warriors), do the Celtics jump into this draft? The Kings would likely perk up their ears at trading the No. 8 to Boston along with a slew of other assets for Rondo if he were available, they've wanted him for over a year. 
But then again, the Celtics don't want to rush into anything. After all, they've only been exploring Rondo trades for what feels like legitimately four years. 
The Celtics' chances to get Love vary widely from source to source. But it just seems unlikely that Jared Sullinger, a decent player and strong rebounder with back issues, the No. 6, and a slew of picks from the Nets that are unlikely to be good, and a package of Celtics picks whose value would depreciate immediately if Love were traded there, is enough to beat out offers from the Warriors and Bulls. But then, you would have thought what the Wolves got for Kevin Garnett from Boston would have been better. 
Also, that little note about Jeff Green seems important. Green's days in Boston may be over. 
The 13 finalists will find out if they have been selected on March 31

Casey, who has spent six years coaching in Canada, doesn't understand why the gun laws are...

Galin Dragiev is SportsLine's No 1. NBA expert and locked in a pick for Team LeBron vs. Team...
Boston is the only team with multiple All-Stars and multiple Rising Stars

The Mavericks rookie enters the dunk contest with a chip on his shoulder

Beal still scores a ton but he also is running Washington's offense with Wall out