Report: If Jazz trade, they would trade Millsap, not Jefferson
If the Jazz trade anyone, they might trade Paul Millsap.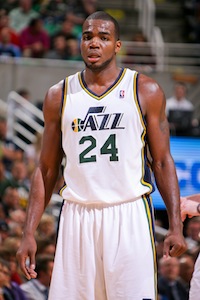 Millsap
(Getty Images)
This has been bugging me all season. Why has no one traded for Paul Millsap yet? It has been known for a while that Millsap, who is an expiring contract, is willing to test free agency. So he's not 100 percent sold on returning to Utah. The Jazz, meanwhile, have been trying to find more and more ways to give minutes to promising young forward Derrick Favors and have Enes Kanter as a backup big behind Al Jefferson, also a free agent.
Millsap produces at a high level, can defend, stretch the floor, rebound and come through in big moments. He would be the perfect big addition to a team looking to vault into the next tier. So why are teams not throwing assets at Utah? And if they are, why is Utah so slow to talk about them? ESPN reports that the Jazz might be slowly moving toward keeping Jefferson, also a free agent this summer, and moving Millsap at the deadline. That's if they do anything at all:
I will say, though, that there's been more chatter recently to back the notion that Jefferson is staying put for the rest of the season. Which is another way of saying that the Jazz, based on the latest forecasts on the personnel grapevine, intend to either trade Millsap or stand pat until the offseason.
There's certainly a case to be made for keeping Millsap and doing nothing. He can help in any playoff push they pursue, he's a talented player, and if something dramatic were to happen, the Jazz might need him. But they're also in a situation that so many teams have faced before, where there's a need to get some sort of return on him instead of just moving him. 
There are a number of teams that could use him, big time, including the Celtics, Nuggets and Suns among others, and he likely comes with a smaller price tag than Josh Smith based on his market value (in part because of how the Jazz have handled him). He's arguably more consistent than Smith and has higher upside. If teams are looking for a big addition in a market that is painfully low on them, I ask again:
Why not trade for Paul Millsap?
A mic on the court evidently picked up what the Cavs superstar had to say to the Lakers ro...

The idea was to bring Bell along slowly, but he's making it harder and harder to keep him on...

Donovan Mitchell kept the top spot in the rankings, but there was plenty of shuffling below...
Stephen Oh is 23-7 picking Rockets and Spurs games and just locked in a play for Friday

SportsLine simulated Friday's Sixers-Thunder game 10,000 times

Cavs star chose to be very secretive when talking to Lakers rookie after Thursday's game