Report: Jackson has not 'totally given up' on Shaw as Knicks coach
Phil Jackson reportedly still prefers Brian Shaw to Derek Fisher as a head-coaching candidate.
• 1 min read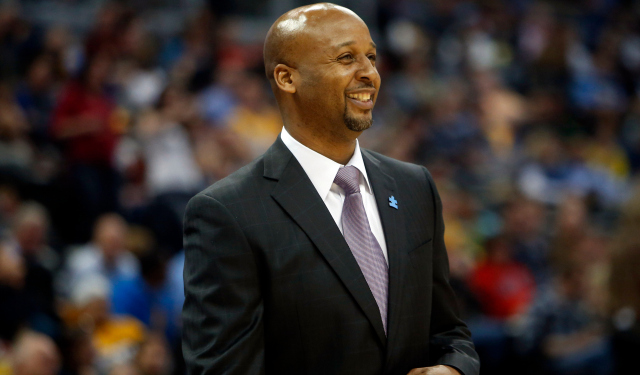 More postseason coverage: Playoff schedule, results | Latest news, notes
Despite Brian Shaw repeatedly shooting down the idea in interviews, New York Knicks president Phil Jackson "hasn't totally given up hope" he can poach the Denver Nuggets coach, according to the New York Post's Marc Berman.
According to a source, Jackson, the Knicks president, prefers Shaw over [Derek] Fisher, but the Nuggets would require the Knicks to pay compensation. That appears to be a bigger roadblock to getting Shaw out of his Denver contract than Shaw's reluctance to come to New York. It's unclear whether Jackson has formally asked the Nuggets for permission to speak to Shaw.
Derek Fisher is reportedly thought to be the leading candidate, given the difficulty of working something out with Shaw. At the draft lottery on Tuesday, Shaw told the Post that he was happy in Denver. An earlier report indicated that the Knicks had resigned themselves to the fact that they cannot offer the Nuggets anything substantial in compensation. New York has traded away so many first-round picks that the next one it could offer would be in 2018.
Tyronn Lue, another point guard who played for Jackson with the Los Angeles Lakers, is a "dark horse" candidate, according to the Post. He has served as an assistant under Doc Rivers for the Boston Celtics and Los Angeles Clippers, and, like Fisher, would be someone Jackson could mentor.
Plan A clearly failed for New York when Steve Kerr accepted the Golden State Warriors' offer. Plan B appears to be an extended, deliberate search, where Jackson will conduct a series of interviews. It doesn't sound like the Knicks have seriously pursued Shaw, but perhaps that will change. 
Denver went 36-46 in Shaw's first season on the sidelines.
Kris Dunn somehow took a chunk of the Bulls court out with his teeth, but didn't lose any in...

The fallout from the Rockets-Clippers tussle continues; no Clippers were disciplined

DH12 is picked for free throws after a teammate gets ejected. He makes both, and lets Scott...
Bell was injured defending a Robin Lopez dunk and had to be taken off the floor in a wheel...

Trevor Ariza and Gerald Green are reportedly both suspended two games

We've got all the scores, highlights and news from Wednesday night