Report: Jameer Nelson likely to opt out, test free agency
A report indicates Jameer Nelson is likely to opt out into free agency this summer.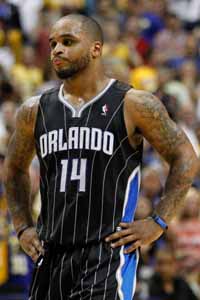 Jameer Nelson could be a free agent this summer.
(Getty Images)
Jameer Nelson
pretty much spent a year being thrown under the bus by
Dwight Howard
, someone he had considered a friend. At every turn, Howard was talking about playing with Deron Williams, Chris Paul, Derrick Rose. That's gotta sting for a guy who helped Howard make it to the Finals in 2009 by playing at an All-Star level. Nelson has an opt-out for the 2012-2013 season and Hoopsworld reports he may be done as Howard's second, or third, or fifth choice. 
Jameer Nelson can, and likely will, opt-out of the final year of his contract. Sources close to the situation say that Nelson wants to test free agency and sign a long-term deal that gives him some security going forward. Nelson doesn't want to be dealt as an expiring contract and end up in a bad situation. If he leaves Orlando, he wants to choose his next team rather than being dealt somewhere out of his control.
via Where Do The Magic Go From Here? | HOOPSWORLD | Basketball News & NBA Rumors.

Nelson's value on the open market could be huge considering he's a game-managing veteran who can hit from the outside. Nelson's 30, though, and the value on point guards drops considerably after that. No wonder he's reportedly looking for the final payday. This is a danger-area for teams, though.

Nelson's the kind of player that teams looking for "one more piece" tend to overpay for, trying to nab the best value player on the market. Small markets in particular tend to overspend on players of Nelson's ilk. It's good timing for him, getting out of the sinking ship of Orlando while getting that final payday under the belt.

And hey, maybe he'll wind up somewhere he's not expected to make a flip-flopping superstar chasing a big market happy.  

(HT: HoopsHype) 
Beverley handcuffed Lonzo on the court, and the emotion carried into the locker room

Ball's eagerly awaited first NBA game didn't go the way Laker fans hoped

Griffin can still hand out posters with the best of them
The Knicks forward is a bucket-getter in the truest sense of the term

On the TNT broadcast, even Shaq finally admitted that he likes Joel Embiid's game

The Warriors new Nike classic uniforms will be revealed Thursday