Report: James Dolan has banned Woody Allen from VIP restaurant
James Dolan reportedly banned Woody Allen from eating in the VIP restaurant at Madison Square Garden during New York Knicks games.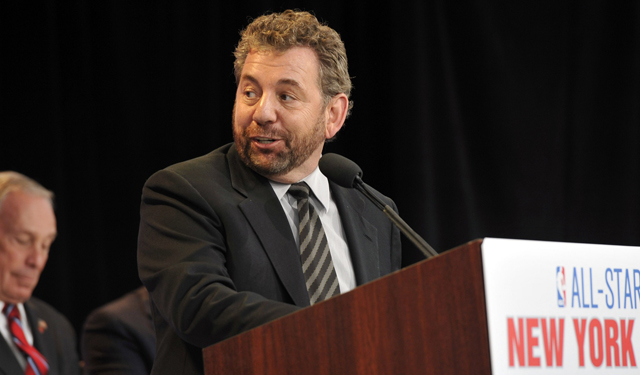 There are times in which I believe the entire perception about the negative effect owner James Dolan has on the New York Knicks franchise is completely overblown. Sure, he's the owner so what he says goes but for the most part, I can't imagine there can't be ways for competent people to do their jobs and figure out a way to convince him their decision is the way to go. No owner can be that hilariously self-destructive.
Then stories like this one come out in which James Dolan allegedly purchased the right to show some Woody Allen movies on the MSG channel and wanted the famous director to talk about/promote these films on air before they were shown. Apparently Allen respectfully declined because it made him uncomfortable and he hadn't done that for other channels that show his movies. Naturally, that would lead to James Dolan banning Woody Allen from the VIP restaurant at Knicks games, right? From the New York Post's Page Six: 
Woody Allen is a huge Knicks supporter, but he's no fan of the team's owner, James Dolan.

Sources say Dolan had the Oscar-winning director banned from Suite 200, the VIP lounge at Madison Square Garden, after Allen refused to do any promotion for MSG Network or the Garden of Dreams Foundation.

"He got a call from someone at MSG saying they had bought the rights to air several of Woody's movies on the MSG channel and wanted Woody to go on the air and talk about his movies or introduce them," a Woody source told me.

"Woody said he would not be comfortable doing that. He has never done that for any show or network. They then said that this was a 'reciprocal arrangement' and that if Woody couldn't go on TV for them, he should not eat in their VIP restaurant anymore. Woody said fine and thanked them for the many years he had enjoyed the space there."
It is just a rumored story so it's possible this isn't entirely true. However, seeing that James Dolan is involved and going over the history of how he's hilariously run this franchise makes me believe there could be a lot of validity to it. Between this and Dolan allegedly calling for Iman Shumpert to be benched in favor of Kenyon Martin due to a secret offseason knee surgery, it's amazing the Knicks haven't been bungled even further under James Dolan.
We've had years of Isiah Thomas running the team, a weird feud with Mikhail Prohkorov, Chris Smith getting a guaranteed roster spot because he's J.R. Smith's brother, a reactionary trade for Andrea Bargnani after the Nets acquired Kevin Garnett and Paul Pierce, this Shumpert business, and now Woody Allen being banned from the MSG VIP restaurant because he didn't want to do promos for his old movies. 
It's just another day in paradise, right Knicks fans?
LeBron had 29 points, 11 rebounds, and 10 assists in the Cavs' 109-100 win over the Jazz

The montage showed Carmelo's best Knicks moments before playing the Thunder game

KCP can't leave California for 25 days due to the terms of his pleading guilty to a misdemeanor...
Keep it right here for all of the news, notes, scores and highlights from around the leagu...

LeBron tried to keep what he said a secret, but one mic on the court picked it up

SportsLine's Mike McClure, a DFS pro with more than $1M in winnings, gives optimal lineup...