Report: Jason Richardson could miss entire 2013-14 season
Philadelphia 76ers' shooting guard Jason Richardson had a fairly new procedure done to his knee in February and could be out for next season.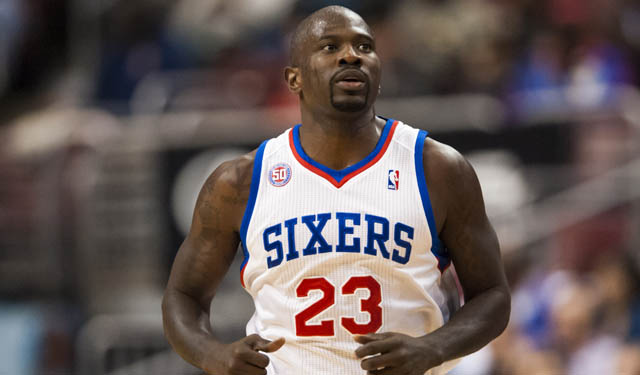 As the Philadelphia 76ers enter the 2013-14 season with eyes on the prize of one of the top prospects in the 2014 NBA Draft -- be it Andrew Wiggins, Jabari Parker, Dante Exum, etc. -- they're unlikely to be terribly concerned with having a veteran wing player in the rotation that could potentially help them win games. Sam Hinkie's Sixers will be counting ping pong balls more than they will be counting wins.
Jason Richardson is recovering from a fairly new procedure to help repair his torn meniscus while giving him long-term chances at having health in that knee. It's already expected that he'll miss a big chunk of the 2013-14 season, but Bob Cooney of Philly.com recently had a throwaway line in an piece that said Richardson is likely out for the season following his surgery in February.
Jason Richardson is most likely out for the season following major knee surgery late last season. Rookie Nerlens Noel, who tore the ACL late in his lone year at Kentucky, might not play until after the new year, if at all.

Kwame Brown

is under contract for a whopping $3 million, but he'll most likely be waived, with the team eating the salary, and

Royce White

's anxiety disorder may never get him out of a Delaware 87ers uniform.
Richardson was diagnosed with a hole in his meniscus during the middle of the 2012-13 season and needed surgery to fix it. To give you a better idea of the major knee surgery Richardson underwent, it's called Denovo surgery that places juvenile cartilage where the cartilage damage occurs. Richardson explains the procedure in this article from March on MLive.com in which he was explaining why he canceled his charity even in Saginaw, Michigan:
"I was diagnosed with having a hole in my meniscus about the size of a quarter. Going to several doctors to see what was the best procedure to have, I decided to go with a fairly new procedure called Denovo surgery. It's a surgery where they take juvenile cartilage and implant it back into my knee where the cartilage damage occur.

"Although the most common surgery for basketball players (micro-fracture surgery) has a quicker recovery time, I felt that the Denovo surgery has a better long-term success rate post basketball. 

"My rehab process right now... I have to be on crutches for 12 weeks completely ... no weight bearing on my left leg (Been on them for 5 weeks now), after crutches I have to be in a special brace called the loader brace which relieves stress from the area of the surgery for six months. 

"Some time by mid-October, I will be able to start lifting light weights, and hopefully if all goes well I will be able to resume normal basketball activity by late January-early February. 
My goodness, that sounds like a really tough rehab process for a player to go through. It's great that it could yield better results for him post-playing career, but it doesn't seem inconceivable that he'd miss the entire 2013-14 season when you read that if all goes well he could resume normal basketball activity by late January-early February.
Just last November, Richardson wasn't the high-flying act we were used to seeing from his career, but he was still able to throw down a 360 breakaway dunk in a game.
Get better soon, J-Rich.
(H/T - Liberty Ballers)
From Thunder Dan to Pistol Pete to Agent Zero, guards who would be better these days

Griffin said recently he thinks it's more likely that LeBron James goes to New York than L...

Mayo was suspended for two years last summer for violating the league's anti-drug program
The NBA broke its silence with a statement related to the Lakers-Paul George tampering cha...

The Clippers big man thinks LeBron will reunite with the banana boat crew at some point

Have the Clippers reportedly found their next GM?