Report: Jazz emerging as third team in Lamar Odom trade talks between Mavs, Clippers
The Mavs and Clippers are talking trade and need a third team, which might be the Utah Jazz if they're willing to take back Mo Williams.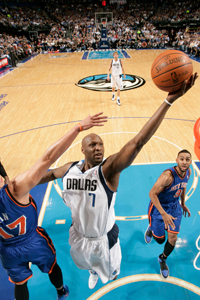 Lamar Odom never worked out in Dallas.

(Getty Images)
The Clippers and Mavericks may have found their third team. But Mo Williams is holding all the cards.
Reports surfaced of the Mavs looking to arrange a trade with the Clippers involving Lamar Odom earlier in the week, but there was a hangup -- a third team was needed. The Mavs want to unload Odom without taking any more money back on as they look to remain flexible with their cap this summer.
The Clippers want Odom to buy him out for just $2.4 million, or potentially have him as a necessary weapon off the bench. And according to ESPN.com, the Jazz may be getting in on this thing.
The Utah Jazz have emerged as the potential third team in the Los Angeles Clippers' ongoing trade discussions to acquire Lamar Odom from the Dallas Mavericks, according to sources close to the process.

Sources told ESPN.com that the Jazz are willing to take on Mo Williams in a three-team trade scenario that would send Odom to the Clippers and enable the Mavericks to shed Odom's salary without taking back any salary.
The hitch in the plan is Williams needs to invoke his $8.5 million player option, which would essentially have him signing a one-year deal with the Jazz. Unless he agrees to that, the deal will likely fall apart.
Ken Berger of CBSSports.com says according to a source, Williams is "open" to going to the Jazz, with another saying he's "50-50."
According to the Dallas Morning-News, the Mavs have agreed to the trade and are just trying to get it done.
The Mavericks have agreed to send the troubled Odom to the Clippers, who in turn will ship Williams to the Utah Jazz, who will send a trade exception from the Mehmet Okur deal last season to the Mavericks, an NBA source said.
The deal works as the Jazz can absorb Williams' salary without sending a player to the Mavs by using a trade exception made by last season's trade of Mehmet Okur to New Jersey.
Odom's $2.4 million buyout expires on Friday, essentially creating a deadline for this deal. If no deal is done by Friday, it's expected that the Mavs will buy out Odom making him an unrestricted free agent. He would be expected to be interested in the Knicks, Clippers or Heat.
SportsLine's Mike McClure, a DFS pro with more than $1M in winnings, gives optimal lineup...

Leonard was recently shut down again to rehab the nagging quad injury

Ellington is averaging a career high 11.2 points, and shooting 41 percent from 3-point lan...
Multiple players said the meeting did not go well

The Cavaliers, you might have heard, are slipping

Here's how to watch Jimmy Butler and the Wolves take on Blake Griffin and the Clippers