Report: Jerry Sloan interested in Magic, Bobcats head coaching jobs
Jerry Sloan has reportedly expressed interest in the Orlando Magic vacancy as well as the Charlotte Bobcats opening.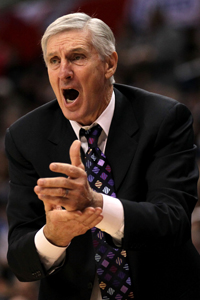 Jerry Sloan sounds like a man that wants to coach again.
(Getty Images)
It really seemed like only a matter of time.
With the way Jerry Sloan's career ended in Utah, it just didn't seem like the coaching legend would be able to walk away from basketball, especially like that. He's been linked to other jobs here and there but never has really sounded that interested in returning.
Until now.
Via Fox Sports Florida
, Sloan has expressed interest in the Orlando Magic vacancy as well as the Charlotte Bobcats opening.
Sloan told FOX Sports Florida on Tuesday he has interest in the Orlando Magic job, which became open Monday when Stan Van Gundy was fired.
 
"Yes, I think so,'' Sloan said from his farm in McLeansboro, Ill., about his interest. "It would be very intriguing. But they would have to be interested in me.''

Sloan, a Hall of Famer, resigned from the Utah Jazz in February 2011 after 23 seasons. But he said not long after that he got the urge to return to coaching.
 
Sloan, who has a 1,221-803 career NBA coaching mark over 26 overall seasons, said he has not heard anything yet from the Magic. He also said he has interest in the Charlotte job but hasn't heard from the Bobcats.
 
"It's not always about starting at the top,'' Sloan, 70, said when asked if he really would interested in a rebuilding situation such as the one with Bobcats, whose 7-59 record resulted in the worst winning percentage in NBA history (.106).
Obviously, the Magic job is better. Dwight Howard or not, it's a roster built more for winning. But then again, the Bobcats have a great chance at drafting Anthony Davis, a player considered to be a franchise-changing talent. If that happens, the Bobcats job could get a whole lot more intriguing.
The Magic are kind of an organization in shambles after firing a very well-respected coach in Stan Van Gundy and then parting ways with general manager Otis Smith. Sloan resigned from the Jazz after frustrations with a star player there (Deron Williams), and I'm sure he's not all that keen on taking on another drama filled situation with Howard.
Sloan said he's had a void since he resigned and misses coaching basketball.
"I felt like I needed to get away from basketball,'' Sloan said. "I worked (26) years (as a head coach). It was time for me to move on and see what was going in the world. That's been kind of interesting. But I still have that void of basketball.''
Sloan is one of the greatest coaches ever in the game, building a resume that includes two
NBA
Finals trips, third all-time in wins (1,221) and 15 straight winning seasons.
Sloan is only 114 wins behind Don Nelson for first on the all-time wins list.
Markieff Morris was already in line to miss the start of camp due to a pending assault cas...

The 76ers should hopefully get a lot of play out of their young guys this season

Okafor's been on and off the trade block for over a year and doesn't seem to be in Philly's...
Fisher is the fourth NBA player to compete for the Mirror Ball trophy on the show

Barkley commends the NBA, sarcastically, for extending the season and reducing back-to-back...

Enes Kanter isn't seeing much comedy in the Kevin Durant social media situation