Report: Josh McRoberts has opted out for next season
Bobcat/Hornets forward will be a free agent this summer after a successful year in Charlotte.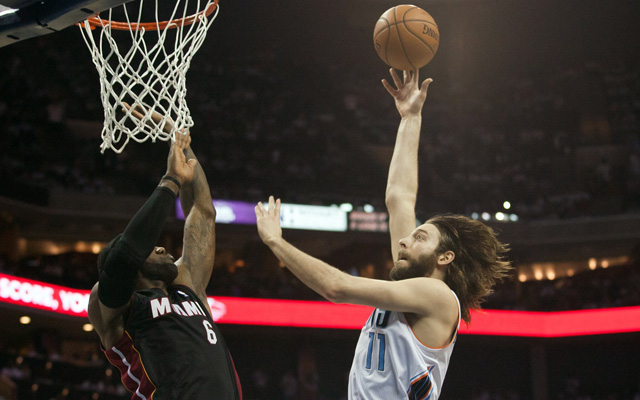 This should come as no surprise, but Bobcats/now-Hornets power forward Josh McRoberts reportedly has opted out of his contract for next season at $2.7 million and will become a free agent this summer. 
Observer source: Hornets forward Josh McRoberts has opted out of his contract and will be an unrestricted free agent in July.

— Rick Bonnell (@rick_bonnell) June 18, 2014
McRoberts had a stellar season for the stealthily decent and tough Bobcats, averaging 8.5 points, 4.5 rebounds and 4.3 assists per game for the Cats and shooting 44 percent from the field and 36 percent from three. He was a willing passer, a tough defender, ran the floor, and made plays. The Hornets have indicated they'd like to keep him, but it remains to be seen if they'll be able to afford him or ward off offers from contenders.
For a player who was often seen as kind of a punchline with the Lakers and the Magic, McRoberts hasn't just proven to be a decent rotation player, but a valuable contributor to a playoff team. 
In short, he's about to get paid. 
The Cavs are reportedly looking to acquire numerous players -- even Teen Wolf?

SportsLine simulated Saturday's Rockets-Warriors game 10,000 times

Two underperforming squads will square off on Saturday afternoon
The West's two top teams will meet in prime time on Saturday night

Our advanced computer model simulated Saturday's Thunder-Cavs game 10,000 times

The Jazz are reportedly looking into trading Rodney Hood before the Feb. 8 NBA Trade Deadl...