Report: Josh Smith unlikely to be traded due to financial concerns
Josh Smith reportedly is unlikely to be traded due to financial concerns.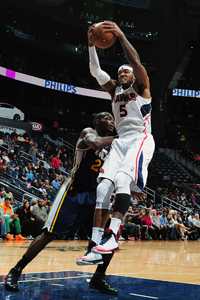 Smith
(Getty Images)
Josh Smith enters the final three months of his contract following years of discord with the Hawks and might not be changing jerseys before July, if at all, according to ESPN. The problem? The Hawks won't take money back, and Smith will seek a max contract wherever he lands. From ESPN:
Unless there's a bona fide star player to be had in exchange, indications persist that the Hawks don't want to do anything that cuts into the considerable cap-space haul they're headed for in July. Because they're going to be right alongside the Dallas Mavericks, sources say, in trying to steal Howard from the Lakers.

Atlanta general manager Danny Ferry, by all accounts, wants to avoid any salary that strays beyond this season unless the talent coming back is irresistible. Another factor: Josh Smith's recent declarations that he sees himself as a max player don't make it any easier to find a trade partner ready to take on the enigmatic swing man in fear of not being able to meet Smith's demands in free agency come July.

I've likewise heard from a couple of teams that have pursued Smith in recent weeks that they've cooled on the idea because the 27-year-old is likewise reluctant to commit to an extension as part of the trade. J-Smoove clearly wants to make it all the way to free agency on July 1 after nine seasons with the Hawks.
Smith's yet another component of a trade market with several big pieces (Paul Pierce, Pau Gasol, etc.) who have little to no market due to the context of their situation. The Hawks might reach a point where they're willilng to garner little in return for Smith just to clear cap space at the deadline, but there's little win there. It would hurt morale as long as the Hawks are within range of a playoff spot.
Meanwhile, there's always the chance that something frees up and a team makes a move to acquire Smith as their signature star. A team like Dallas, which Smith has reportedly been interested in in the past, could send contracts with reasonable remaining years and money to Atlanta and still have room left to use Smith as a drawing card for Dwight Howard. Two max contracts for Smith and Howard would essentially remove any ability to build a team around them under the new contract rules, however, and Smith and Howard have not been emphatic about playing together next season.
But it should be noted Smith has yet to adamantly request a trade despite years of disagreement with the Hawks over the direction of the franchise. You'd think something would eventually have to happen, but then, these are the Hawks. That's not really how they roll.
All of this is before you factor whether Smith is a max player, as he believes. (Here's a hint, despite how highly I think of Smith's game: he's not.)
The Blazers guard was a guest on the Sirius XM radio show 'Sway in the Morning'

L.A. reached a three-year jersey ad patch deal with Wish, a San Francisco-based e-commerce...

John Paxson doesn't intend to buy Wade out without some sort of compromise from the 3-time...
Lonzo's signature shoes have a sleek, all-black design and will be available in November

Durant recently apologized for tweets criticizing the Thunder and Billy Donovan

Jackson says he has 'no respect' for Durant after KD created fake Twitter pages