Report: J.R. Smith finished playoffs with fluid buildup in his left knee
J.R. Smith reportedly had a swollen left knee that had fluid buildup in the playoffs, contributing to his diminished performance.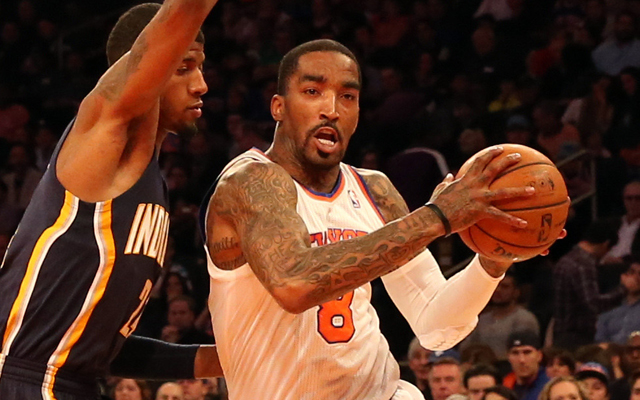 After a team loses a tough playoff series, we often hear about a player playing hurt. It's the playoffs. Guys get hurt and play through it if they can. We've seen this with just about every team in the playoffs over the years, and this year, the team with the most notable problems was the New York Knicks.
First word surfaced earlier this week that Carmelo Anthony finished the year with a torn labrum. Then on Thursday, the New York Post reported that Sixth Man of the Year gunner J.R. Smith had swelling and fluid in his knee, contributing to an absolutely dreadful postseason campaign.
The Post has learned J.R. Smith's nightmarish playoff performance was partly because of a swollen left knee that contained fluid buildup.

According to a league source, Smith likely will have his knee drained of the fluid in the next two weeks -- the same procedure Anthony underwent in March. So Smith's struggles weren't only about his sharp elbow in the Celtics series, alleged hangover and viral infection.

Smith had played with a swollen knee since March, but it acted up severely in the playoffs. The swollen knee is the same condition Anthony dealt with this season until he finally had it taken care of. The Knicks called Anthony's issue "soft tissue fluid collection.''

"[Smith's] been playing hurt," the league source said. "He probably should've sat out a couple of games. It's what Melo had. That's why he wasn't driving the ball like he was. That's why his jump shot wasn't right, not having the lift.''
via Knicks star Carmelo has small shoulder tear; J.R. has fluid on knee - NYPOST.com.
Oddly, Smith played well in the Knicks' first three playoff games. He only struggled after an elbow to Jason Terry earned him a suspension for Game 4, and after he was spotted multiple times at night clubs, most notably with Rihanna one night, according to the singer. 
Smith shot 50 percent and 36 percent in the last five games of the regular season, averaged 17 points on 41 percent shooting in the first two games vs. the Celtics, then watched his production plummet. Against the Pacers, Smith averaged just 14 points on 29 percent shooting. The Knicks lost four games to two vs. Indiana in the second round. Smith has a player option for next season to become a free agent in July.
An Alabama native, Barkley campaigned for Jones leading up to Tuesday's election

Kerr knew just what to say after Jones pulled off an upset in Alabama

The future of the league was on display on Tuesday night
Check in throughout the night for the latest news and highlights from NBA games

The Lakers legend details why the NBA popularity will continue to rise

SportsLine's Mike McClure, a DFS pro with more than $1M in winnings, gives optimal lineup...