Report: J.R. Smith had 'heated' confrontation with Mike Woodson
J.R. Smith had it out a bit with Mike Woodson, and then was late to a team meeting which led to his benching, according to a report.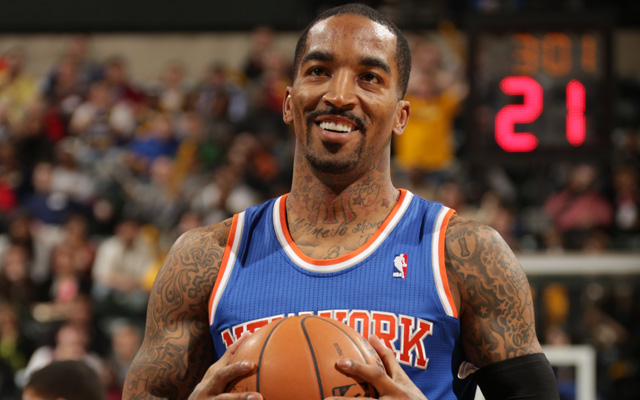 You'll never believe this, but something happened recently with J.R. Smith and the Knicks. 
According to ESPN New York, Smith was late to a team meeting on Tuesday which likely is what led to his benching that night against the Bobcats. 
Also, according to the report, he had a "run-in" with coach Mike Woodson on Monday after griping about playing time, or the lack there-of, against the Suns.
Sources say Smith expressed his frustration with Woodson during the game and the two had a brief, heated discussion over Smith's displeasure shortly after the game. Smith's tardiness on Tuesday and his frustration with playing just 45 seconds in overtime likely led to Woodson benching him on Tuesday night against Charlotte.
Smith's situation has been a rocky one recently in New York as the mercurial sixth man was fined $50,000 by the league for not heeding warnings about untying shoes on the free throw line. Because of it, Woodson blasted Smith in the media saying the player needed to grow up and act professional. 
Smith said following Tuesday's game that he was surprised by not playing and called it "ridiculous" for the sneaker incident to have been the catalyst.
"For that to be the trigger point and for all this to happen is ridiculous," Smith told reporters. "I'll figure out what I can do better to help this team and go from there. If I can't help the team, [there's] no point in me being here."
According to a recent report, because of the headaches caused by Smith off the court, the Knicks had begun to explore the trade market for last season's Sixth Man award winner. Smith, though, signed a three-year, $18 million contract in the summer, which makes him a very difficult player to trade. 
On 98.7 FM in New York, Woodson said he's still backing Smith, though he did admit frustration.
"J.R.'s wearing a Knick uniform. He's here. We're all in J.R.'s corner. That's never going to change," Woodson told "The Stephen A. Smith and Ryan Ruocco Show". "I've been one of his biggest supporters and that will never change. But again, it's all about team. It's not about Mike Woodson, it's not about J.R. It's about us doing the right things on and off the floor.
"I'm not kicking J.R. to the curb. J.R. is a big part of what we've done here and he will remain a big part. But he's just got to make sure that he's on the same page with the head coach in terms of what I'm expecting from him and what I want him to do in terms of his play and what he's doing on and off the court to help us win basketball games."
Green left the Warriors' opening night game vs. Houston with what the team is calling a knee...

Portis left Nikola Mirotic with facial fractures and a concussion after an altercation in Tuesday...

Bill Reiter and Reid Forgrave react to Hayward's injury and discuss Celtics, Cavs, Rockets...
In his Cavs debut, Rose's timely cut opened up Kevin Love for a 3-pointer which sealed the...

If the 21-year-old wing takes the next step, Washington could be much more dangerous this time...

Minnesota is another team poised to make the leap from pretender to contender